INK Conference, 2012 was indeed a wonderful intellectual event. The speakers were exceptionally brilliant. Here's presenting to you an exclusive interview with another  INK Fellow 2012, Peter Frykman, who discusses about his noble venture, 'Driptech' with many other insightful things. Read on!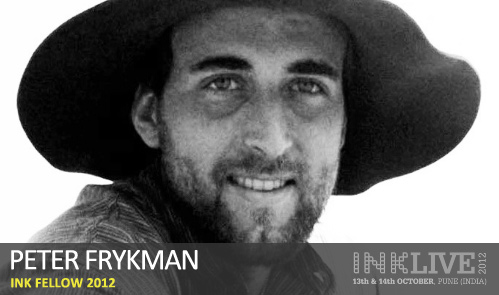 Q. Peter, you are the founder and CEO of Driptech. What encouraged you to start Driptech? Can you give us few details about the company? As a part of ' Entrepreneurial Design for Extreme Affordability' class, you traveled with your team to Ethiopia. What was your reaction on seeing the worst drought Ethiopia had experienced in 20 years?
A: I traveled to Ethiopia in April 2008. That year, Ethiopia was experiencing a severe drought. For irrigation, farmers either were entirely dependent on the rains or when there was enough water, they depended on flood irrigation. Drip irrigation had been around for over 50 years and was known to save water and improve yield so I wondered why the farmers weren't using drip irrigation.
The drip irrigation products that were locally available were too expensive for most farmers and seldom worked properly. In order to break the cycle of poverty, these farmers needed better, cheaper, more effective ways to use their meager water supplies efficiently: a low cost, water-efficient irrigation especially designed for small-plot farmers and manufactured affordably. During the summer of 2008, I developed the technology behind Driptech's innovative manufacturing process and incorporated the company. To me, it was clear that only through a completely new system for manufacturing and distributing will this critical solution become available, affordable, and appropriate for the world's small plot farmers. Since then, our company has set up manufacturing in China and commercial scale distribution in India through rural dealer networks and partnership with agricultural companies. I'm now leading a team that consists of 40 people across the US, China and India.
Q. What kind of services does your company offer?
A: Driptech's mission is to alleviate poverty by creating extremely affordable, water efficient irrigation solutions for small-plot farmers in developing nations. We make affordable, high quality drip irrigation systems, providing a means for small farmers to save water and labour and substantially increase their yield. The system provides a means for small farmers to invest in drip irrigation, offering all the benefits of traditional commercial drip irrigation (reduced water usage by 30% to 70%, increased crop yields of 20% to 90%, and substantial time savings).
Q. Difficulties and challenges you had to face while setting up Driptech. How did you overcome them?
A: Challenges: Fund raising for a new business that is in the agricultural input sector, which is not a common sector for start-ups.
Recruiting the right key management team members
Solutions: Tapping your network and getting good press in the right publications. Tell everyone what you need (friends, investors, acquaintances, etc.).
Q. Share with us few things to be kept in mind while launching a startup.
A:
Test your ideas with real users as early as possible; even if you don't have a perfectly finished product, you'll learn a lot even if everything doesn't work out as you expect.
Let the end customer's voice guide the product development process, constantly.
Choose a diverse set of key members who can easily shift between different roles, everyone wears a lot of different hats in startups.
Live your vision.
Think big but be efficient in utilizing existing resources.
Q. What is the aim of Driptech?
A: Six hundred million subsistence farmers lack irrigation water and are mired in poverty. Most small-plot farmers cannot grow crops throughout the year due to insufficient rainfall and are unable to afford existing irrigation systems which are either too expensive, too complicated to use, or of too poor quality. Under these conditions, small-plot farmers are limited in ability to improve their livelihoods.
Driptech is working to overcome these challenges by making affordable, high quality drip irrigation systems, providing a means for small farmers to invest in drip irrigation, enabling them to save water and labor and substantially increase their yield. Our goal is to increase the income of the 600 million subsistence farmers who lack appropriate irrigation, while also saving water and improving food security.
Q. According to you, is social media a boon or a bane?
A: It is a boon. Social media provides a platform to explore and share information, to exchange ideas, to meet new people from various backgrounds, to stay up-to-date and to stay connected. Social media offers a way for companies to interact and better understand its customers and it gives a voice to the customer to directly provide feedback about the company's product and services. Social media enhances customer relationships bringing the end consumer closer to companies closer than ever.
Q. What made you want to become a socially-conscious entrepreneur?
A: I always wanted to combine my engineering background with social-entrepreneurship. The skills you learn as an engineer help you become a good problem-solver by bringing creativity, technical know-how and analytical thinking to any situation. These skills can be applied to the challenges facing our world – whether it's food security, water scarcity, rural development, which are all inherently linked. When you design for this underserved market, the social impact is embedded in the product and how the customers use it.
Q. Peter, can you fill in what you think is your / DT's key to success?
A; Driptech's product is based on its customer's needs. Designing for BoP customers doesn't mean replicating an existing system using cheaper material in order to create a low cost product. We are changing the entire system for designing, manufacturing, and delivering irrigation products to small- plot farmers. Only through a completely new system will this critical solution become available, affordable, and appropriate for these farmers.
Customer based design.
A remodelled system.
Q. Tell us, what will be the next step of your venture?
A; Now that we have proven the product and market demand, our goal is to reach as many farmers as possible in India and beyond. With hundreds of millions of farmers suffering from water scarcity, it's only a matter of how quickly we can grow.
Q. Share a statement, a statistic, a lyric, a mission statement, a compelling fact, or any other detail in 140 characters or less.
A: The future of food security rests on the ability of small-plot farmers to invest in affordable technologies like Driptech irrigation.