"The world is a book and those who do not travel read only one page" says  St. Augustine. Our this week's interviewee  will completely agree with this quote as she has been an avid traveler for many years now. She shares with us her travelling experiences, her favourite destinations and other grasping information. That's not all. She is equally passionate about books and has reviewed more than 260 books. It does sound truly fascinating and intriguing, right? Absolutely! Today at your Adda we have a multi-tasker who believes in sharing her innovative ideas and concepts with others. So, all bags packed for the journey?? Let us welcome Anuradha Goyal at your Adda. Here we go!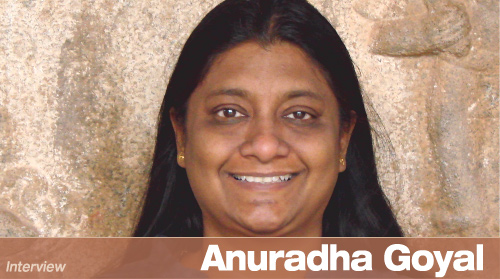 Q: When and why did you start blogging?
A: I started blogging in 2004, more as an experiment. One of my very good friends was a famous blogger then and I just tried my hands on it. Over time people started responding, interacting and I started writing more and more and it just kept growing.
Q: What topics do you generally blog about?
A: I write three blogs.
My travel blog has the biggest following amongst my blogs. Here, I of course write about my travels. Initially, it used to be only about places, now I have started sharing stories from my travels and have just started a Traveling Souls series where I talk to people who I know are totally nomadic. I will keep adding new dimensions to the blog.
It is followed by my book reviews blog where I have more than 260 books reviewed and have recently started a monthly author interview feature. I read books across genres and love to interact with the authors and get to know their perspective beyond what they have written in the book, or listen to them answer the questions that their works raised in my mind.
Third blog is on Business Innovation where I share my thoughts on Innovation. Not many people know that on this blog I run an Ideas to Explore series where I put across ideas with good business potential, and anyone is free to pick them up and work on them. I am willing to help anyone who works on these ideas.
Q: Do you ever get stuck when writing an entry? What do you do then?
A: Yes, writer's block visits me as it does to every writer. It used to bother me initially. Then I found work around – when I am in a flow, I just write, write and write and then keep posting them over a period of time. God bless the person who designed schedule feature for blogs. It also helps me to take writing breaks, or I do no reading-writing when I am traveling. The blog posts roll out at the same frequency.
Q. Anuradha, how often do you travel? If given a chance would you like to change the frequency?
A: A cliche answer – I travel far less than I would like to. There is no set pattern to my traveling, though the least I want to do is see a new Indian state and a new country every year. I think that I am doing Okay on the Indian states front, but need to see more countries. I am not in the race to see as much as possible or tick items off a checklist, I want to see places at my own pace, feel the place, figure out the ethos of the place and know it a bit. In fact, a lot of my blog is about city travels. There is so much hidden in and around our own cities that you can spend a lifetime discovering your own vicinity. We travel to look at the wonders of the world, but we simply ignore the ones in our backyard. If you do not believe me ask how many people in Delhi have been to Humanyun's tomb or how many in Mumbai have been to Kanheri Caves. I try to see at least one new thing in my own city (which thankfully keeps changing) every month.
Q. You have lived in 14 cities across the world. Do you visit any tourist destination twice? Tell us your one favourite destination where you would love to travel back again. Why?
A: Not by design, but I have visited a few tourist destinations more than once. Sometimes it brings back nostalgia, sometimes you see new things that have come up and sometimes you wish you had let the place stay as such in your mind. Rapid tourism development can take a toll on the character of the places. Ideally, I would like to travel to new places every time, because there are so many places and only one lifetime. I lived in UK long time back, little far from London and used to visit London on weekends. I would like to spend some more time in London, specially in its Museums where some of the most precious artifacts from around the world are kept.
Q. "Travelling is part of my DNA. First, I moved with my father who was in the Army, then I traveled traveled for fun and then it became a conscious decision to explore and write about interesting places around the globe," you said this in your article published in Deccan Chronicle. We would love to hear your first traveling experience. 🙂
A: First traveling experience as a kid was of long journeys during our holidays from say Kashmir to Varanasi, from where my father was posted to where my uncle lived and stopping in Amritsar on the way, visiting the Golden temple, then a stop in Delhi and a quick trip to Chandni Chowk to pick up Sohan Halwa and Karachi Halwa and then long train journey through the plains of India to reach Varanasi. A boat ride across the Ganga to reach the Palace where I still remember the queen's ghaghra and I used to wonder how she moved in that heavy garment. I remember my mother and aunt sitting at the weaver's house choosing saris for themselves and I wanting them to pick one for me only to be ridiculed. One of the later trips that I like to talk about is my solo 10 days in Bhutan and Sikkim. I was totally on my own and the conversations I had with people there will remain with me forever. I was invited by a Lama to have tea in the monastery. I was all excited about the butter tea, but could not have it beyond the first sip. I got to see the interiors of the monastery and it changed a lot of my perceptions.
Q. "I have realized with many people around me that they are immensely uncomfortable with being alone and hence they keep seeking company from here there and everywhere, weather they and the other person enjoy it or not. In fact whenever I see all these people I am often reminded of another quote which says "If you can not enjoy your own company, why inflict in on others" you said this in one of your posts. Do you feel bad about not having a stable set of friends and your family around you always?
A: That's a very old post that you have picked up and that was in response to something that I was reading then. Though I still agree that life in this age and may be earlier too is very lonely at some level. In fact I feel a lot of activity that we see in our urban landscape today is because people are trying to deal with their loneliness.
Personally, I am blessed to have friends who are always there for me. In fact if you read my first posts of every year where I look back on the year gone by, I have said it more than once that my biggest blessing in my life are my friends and the strong support system they provide me. I do live with my family. Having said that I do not put anything personal on my blog, it is always something that can be discussed openly in public domain. A leading newspaper stole a picture from my blog and published and refuses to pay me, I am even shy of putting that on my blog because I feel that is a matter between me and newspaper staff and my blog readers should not be bothered about it, though all my blogger friends advise me that making noise online is the only way to get paid. And 7-8 months hence, I know they are right.
Q. Share with us few instances were a particular place became a great traveling spot because of your blog post.
A: Panjagutta pahad stands right in the middle of Hyderabad but not many people know about it and I have received many e-mails telling me that people visited it after they read about it on my blog, the same was true for Yogmaya temple in Delhi and Kempegowda towers in Bangalore.
Terracotta temples in Bishnupur, West Bengal was suggested to me by a reader of mine, but after I wrote about them, quite a few people visited it. Whenever I have written about smaller places in India, lot of people from that place across the world write in and show their gratitude, which is very humbling. I have also got requests from people to come visit their place and stay with them and they want the world to know their place through my eyes. This was overwhelming.
Q. Do you prefer traveling to popular destinations or off beat places? How do you choose a particular location to travel? Do you involve yourself in any kind of research prior to visiting that place?
A: Popular and off beat are industry jargons. Any place that I have not seen is new for me; any place that invites me is worth visiting. I am more attracted towards history, art and culture, followed by nature so that is what goes into deciding where I go. For example, when people go to North East, they go till Kaziranga but rarely anyone visits Sibsagar, which to me is a beautiful and enchanting temple town with a very own architecture style and was a seat of Ahom kingdom for 600+ years.
Yes, I read about a place that I am visit; if possible any books about that place, and then I know what I have to see and beyond that I have to seek and explore. My research is more focused on knowing the place and its people.
Q. What is that of a place which fascinates you the most to visit it? Share with us your most scary traveling experience and one instance where the destination wasn't as good as you had expected it to be.
A: Like I said before, I am attracted to history, art and culture. So, I like visiting places that have been inhabited for a long time and have a long history. I feel such places have a soul; a bit of everyone who has ever lived there. I don't think there is anything really scary that has happened, but yes once in Coorg I was trying to get to a coffee estate where we were supposed to stay. It was raining and on the steep kuchha road my car could have easily slipped, fallen into a valley and be gone forever.
I went to Cherial to meet the famous Cherial painters and I was quite disappointed to see that there was only one family left who still did paintings and they too have switched to acrylic paints and the whole experience that I had in my mind was lost. I could not pick up a painting that I wanted to as they said they make only on order and that most of the times if it comes from museums. I was still happy to hear their stories and themes that they traditionally painted, but it was a learning that they too have to move with time as the painting profession can not sustain them forever.
Q. You love reading autobiographies and for the last eight years you have been reviewing books of all categories. What encouraged you to start a book review blog? Tell us about your favourite authors and one book which has inspired you the most, as a traveler and as a blogger.
A: I love reading books and amongst them biographies is a favorite one. I have been reading books since I remember, but when I started blogging, I thought of writing about what I read. You know, I was still experimenting. Book reviews is something emerged out of the experiment and then it became a habit. I feel when we read, we meet the author at the intersection of our experiences, that is why every reader picks up a different angle from the same book.
My favorite book of all time remains Mahabharat. I have read many versions of it from the angle of many characters of it, many interpretations of it, many commentaries of it and I can still read it again. It is such a complete story with uncountable number of sub stories and sub plots. More than anything else, it talks about the grey. No character in it is either black or white and no matter what decisions they took, there is always a side that is compromised. I think it is a challenge for anyone to write a story like Mahabharat; so practical yet so full of Rasa. It also covers the whole ancient geography of India, so a lot of times when you go to remote places, people will relate the place to some incident in Mahabharat or Ramayan. When I was exploring Puran Qila in Delhi, I went looking for the signs of Mahabharat and I found Kunti's temple and Bhairon temple that is said to have been from the times of Mahabharat; you may not find this in any guide. So, Mahabharat also ends up showing me something that is not obvious to the eye.
Q. Since you are a travel blogger, people depend on your comments and reviews about a particular travel destination. How important it is for the blogger to interact with their readers? Do you respond to all the comments that you receive?
A: A social media expert will tell you that the more you engage with your readers the more they stick to you and more they talk about you. This is probably true but I must admit that I have not been great at it. If there is question or if someone shares something about the destination, I do interact, but if it is only a compliment, I only say Thank you. I try and respond to all comments, but am not always successful.
Q. How has the journey from a System Analyst to a Innovation consultant been? Traveler, book reviewer, innovation consultant: Which one is your favourite? 🙂 🙂
A: Journey had been incredible. IT career was a career with no precedents; so chartered our paths, we defined our own world and at times we literally had world in out fist. With blogging, the same experience is repeated because it is again a platform that was evolving with no precedents and no predictable future. Incidentally, both IT and Blogging seem to be doing great now. If anyone of the three :Innovation, Travel and Books was even a wee bit better than the other two in heart and mind, I would be doing only that. I am equally passionate about all three of them, and they can occupy me for the rest of my life. And they do converge in a way – Travelling is experiencing the world first hand, books is traveling through others experiences and Innovation is taking your own and others experiences and creating something new out of it. All of them feed each other; innovation leads to more quest that is quenched by Travel and Books which in turn feeds Innovation.
Q. What kind of travelling tips your family or friends ask for?
A: People usually ask me where to stay and I usually have only one answer – I stayed here and thats it. I do not really care for where I stay as long as it is a clean toilet and a safe place to stay, though with age I am getting inclined to indulge in some luxuries. Having said that, when I am traveling – the place and the experience is important, everything else is a necessary evil. I am a part of CouchSurfing community and as far as possible I like to stay with people, which is not the way most people travel. Sometimes people ask for the destination or the circuit, that I am good at guiding based on what they like. When people ask for shopping tips I am lost.
Q. As I sat through the hours of footage covering a whole lot of politicians and their election campaigns, read the reams and reams of paper on them and got all kinds of humorous messages in mail box, my mind started thinking of what it would be like to be a politician. Tell us one thing that annoys you the most about the present condition of our country and one thing you would like to change about India.
A: The energy that we have to waste to get the most basic things in place. To get a phone connection – I know it is easy but still compared to other countries it is cumbersome, to get a passport renewed, to pay bills, to get an address proof – all basics in life, but they consume so much energy that I loose patience.
I am tempted to say corruption, but I guess if we could bridge the economic divide to some extent, things will be much better. Aam aadmi has always had a tough time in this country since the Ram Rajya, so I can not say if it is only now that we are suffering, but whenever the economic divide becomes too much, one section of the society has more power over the other.
Q: Do you promote your blog? What promotional techniques work best for you and why?
A: Honestly, I have been very bad at promoting. I became active on FB and Twitter less than a year back, which means for 7 years I was just writing and hoping the search engines would be benevolent. I am not the right person to advise on promotional techniques, but I do believe that one should always maintain a level of activity that one can sustain.
Q: What do you find to be the most gratifying aspect of blogging?
A: The fact that your body of work is in public domain means that more people know you and your work and the regular readers know you far better than you assume. A lot of times in public places people have walked up to me and said they know me and that feels good. People seek advice, which I am not even sure if I am capable of giving. The access that the blog gives to reach out to people even when you do not directly know them is something to be treasured.
Q: How, in general, would you rate the quality of Indian blogs? Share your favourite five blogs.
A: There are all kinds of blogs in Indian Blogosphere. Discounting the ones that are written for a purpose and forgotten, most of the regular bloggers and their work are good. In last 2-3 years, people have picked up blogging professionally and are doing very well. My favourite blogs would be:
Q: What is your advice to someone who wants to start a blog?
A: Try it out for a while, see if you enjoy doing it. If you do, go ahead and blog. Do it only if you are passionate about blogging and the subject you want to blog about.
Q: According to you, what is the future of Blogging?
A: Future of blogging in India will evolve in next 2-5 years. Blogging is where software industry was in late 90s; lots of potential, lots of talent and where the two shall meet is to be seen. Though my fear is that with professional / paid blogging the passion that the first generation brought to blogging may wither way.
Q: Let's conclude off with a few favorites.
Color: I like some shade of each color
Movie: Light fun movies like Dil Chahta Hai
TV Show: I like quiz shows. Hate KBC for destroying a beautiful format and putting all the melodrama and custom made questions.
Book: Mahabharat
Time of Day: Early morning – I am at my creative best
Your Zodiac Sign: Scorpio
Anuradha, thank you for the wonderful interviews. Many of us have a lot of places put in our bucket list. Â When are we going to strike them off? Let us all get inspired and do a bit of travel in the coming years. What say?