A Trail of Saffron welcomes us as we enter her house. The smell of herbs and fresh vegetables entice us to her terrace garden but we do not succumb to our food craving and instead focus on the task in hand. Sitting on her virtual table with a cup of tea (or filter coffee) in her hands is our special interviewee today. She is a medical doctor & nutritionist by profession, a wife to an ultra marathoner, a mom to a budding experimental palate and a lot more (we have run out of space, sadly!). It is now time to introduce Nandita Iyer, the face behind 'The Saffron Trail'. Without wasting any more time we get on with the questions. 🙂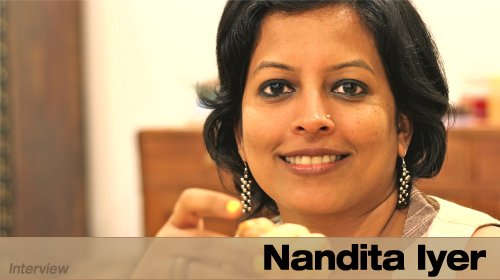 Q: When and why did you start blogging?
A: March 2006. I had a year-long stay in a one-horse-town (and a one-pub-town) in the US and watching Food Network was one of the few things one could do in the winters. It was not without its side effects. I started cooking and experimenting a lot more in the kitchen. Even otherwise, I'm a very intuitive cook and if something turned out really good, I wouldn't know how to make the exact dish the second time unless I kept a record of it. That was my only reason to start a cooking blog, like a foodie dear diary. In 2006, I didn't even know 'food blogger' was a term.
Q: What topics do you generally blog about?
A: So far, it's been healthy vegetarian cooking. The occasional recipe (desserts, for instance) will have the 'one stick butter'; so don't sue me, please. 🙂  After moving to Bangalore, we started growing some herbs and vegetables in my terrace kitchen garden, which is quite magical to watch, especially for someone who has grown up in Bombay apartments with only a pot of 'thulasi' in the balcony railing in the name of a garden. Some of those end up featuring on my blog too in the 'garden to table' section.
Q: Do you ever get stuck when writing an entry? What do you do then?
A: I don't get stuck 'while' writing. If there's no entry on my blog for a while, it means I'm in the 'stuck' phase. It doesn't mean that I'm not cooking, just that I'm not in the mood to keep our family of three (including myself) waiting to eat while I go around photographing dinner from various angles. Cooking with my fellow food blogger friends (yeah, we do that from our respective locations) helps me get out of a blogging rut. Also, starting a new project like a 'kiddie lunch box' project or a 'bachelor recipes' project helps keep the momentum going.
Q. As a child, you hardly entered kitchen. You started cooking only after your medical internship in a rural area. How did the transition from a 'non-cook' to a 'passionate food blogger' take place? 🙂
A: Wait, how did you dig out all this? Need to stop sharing too much of my life on the internet…oh wait!
It was a gradual transition. Like I said earlier, my sabbatical in the US-mostly sitting on couch watching Food Network (when I wasn't getting introduced to Frank Zappa or Vadivelu comedies by the husband) had a big role to play. I also discovered that the large cabinet under the cooking range was not to store extra utensils but to churn out delicious goodies that go by the name of muffins, cakes, cookies etc. and I revelled in the joy of baking. After coming back to India, the first thing I bought was an oven. The husband is a total non fussy eater who will not say 'no' to anything I cook, which also egged me on to try new things in the kitchen. And most successful experiments would end up in Saffron Trail blog, so that I could make them again.
Q. You are a doctor and a nutritional counsellor by qualification. For the last six years, you have been writing for some popular publications regularly. Share with us one article that has been appreciated the most and one that took lot of efforts to research and write. Also share some memorable events in your writing career.
A: One story I wrote for Men's Health "Is your health food healthy?" involved busting a lot of health food myths and I enjoyed writing it.

With regards to a memorable event, I recently started writing for BBC Good Food, India and as my first project, I interviewed the owners of a local French style restaurant. When the story got published, the owner told me that this is the best write up about them till date and from a restaurant that's been written about a lot, I was thrilled to get that compliment.
Q. Has marrying a foodie proved to be a problem or blessing? 🙂 Share some of your favourite recipes that you like to cook for him and family. 
A: It's more of a blessing because it gives me the freedom to cook anything I feel like. Some of my friends who like to try new dishes in the kitchen get constrained by the fact that their husbands like only traditional Indian food. The husband and son would both vote for pasta in tomato sauce as a favourite, as also the Indo-Chinese style hakka noodles, apart from the Arachuvitta sambar of course, which is my personal favourite.
Q . In one of your blog post, you said that you accidentally discover some recipes while experimenting. Share with us two instances, one – where the experiment turned out to be blissful and another were it was a disaster.
A:  Another hat-tip to your in-depth research! I need to first go check where I said this. 🙂  I think you are referring to the Orange Cake which I made using rice flour by mistake, thanks to the microscopic labels on the flour packets (okay, may be, I didn't check at all). While this cake turned out all moist, crumbly and delicious, it couldn't be cut into slices because rice flour doesn't hold the structure when baked, unlike all purpose flour or wheat flour. It tasted almost like an orange-flavoured athirasam. So, I can safely put this is the 'cooking mistakes but not disasters' folder. The one episode that was mildly disastrous was when I offered to make these chocolate brownies for a friend's charity bake sale. I had to bake some 50 of them and as luck would have it, I used the wrong parchment paper and the whole lot of brownies were stuck to the paper. If putting together the stuff and baking took an hour in all, I took the same amount of time to conduct delicate plastic surgery on each of these brownies so they looked a respectable shape and worth buying.
Q . Cooking up something one considers a 'difficult' recipe always gives that smug satisfaction' – You said this in one of your posts in May 2006. Do you follow a particular cooking pattern? Do you allot fixed amount of time for cooking lunch and dinner? Share with us your style of cooking.
A. I'm a very impatient cook. Contrary to what people expect, I hate spending too much time in the kitchen, except of course when it is with a bottle of wine. I use the pressure cooker and oven wherever possible, get some help with chopping vegetables etc. I can put together any meal in 30 minutes, except of course when I'm cooking a more elaborate meal for guests, in that case, time spent would be one hour or so. I haven't developed the patience to hang around in the kitchen for more than an hour at a stretch. And regarding the satisfaction of cooking up something difficult, it is similar to the joy you get in pushing your limits; be it at work or in the gym or in music.
 Q . Nandita, you have been writing for many well known publications and a lot of time is also invested in posting these recipes and managing your blog. You have a three year old son whom we are sure would also be keeping you busy? How do you manage your time? Do you follow an editorial calendar, since your blog is always updated with delicious recipes?
A: Oh, I wish the blog was updated more regularly. I don't have a calendar. I'm hardly an organized person when it comes to scheduling blog posts and such. I'm as instinctive in my blogging as I am with my cooking, which is why I'm bad at cooking for blog-events and such, which need a bit of planning and co-ordination. There are a few things I don't compromise with. Professional writing deadlines, making sure my son eats healthy, making time for workouts, not bunking my yoga/dance classes – these are things I don't mess with. Rest all is flexible.
Q . Being a nutritionist, your dishes always revolve around healthy, well balanced and nutritious food. Do you ever indulge in cooking spicy or junk food? How do you cope up with situations when your family demands for 'not-so-nutritional' food?
A: Thankfully, the foodie I'm married to is quite health conscious himself. He is the first Indian to run the Atacama desert (250 km in 6 days) and he ran a similar marathon in the Gobi desert this year. So, even in the rare event of me wanting to fry vadai or bajji, he'll stop me. We do get our junk food fix when we eat out, because the simplest of things served in restaurants are not without their dollop of cream or ghee.

Q . Left-over food is always a problem for many. Some finish it off the next day because they don't believe in wasting food while some don't consume stale food. Are there any particular recipes that can be worked around the food that is remaining? Do share them with our readers.
A: While I try not to cook extra so no one has to eat stale food the next day; when we have guests it is tough to estimate correctly their collective appetites and leftovers are inevitable. Sometimes I pack off stuff with friends or use it up the next day. Leftover rice makes the perfect vegetable fried rice for kids' lunchbox. I even make koftas with leftover rice. Idli upma using leftover idlis brings back fond childhood memories and my mouth waters as I type this, so leftovers are not always a bad thing.

Q . You write a monthly column in DNA, you have also contributed articles to magazines like Complete Wellbeing, Good Food Guide and many other publications. How does it feel to be recognized for your work by such well known publications?
A: My first story (funnily, not on food) was published over 10 years ago in a newspaper and the cheque for Rs.1200 I received for that, I didn't deposit in the bank for the longest time, because it felt unreal that I was paid for writing something.
When I moved to this complex I currently live in, one Sunday morning my neighbour called me on the intercom to ask if it was my column in the DNA, if I was the same Nandita Iyer. At such times, I feel that people consider it fascinating to be writing for papers and magazines. It feels good, no doubt. A little story here- a year ago, my son's preschool teacher told me how they were cutting pictures from old magazines and they spotted my picture in the bio of one of my articles and my son excitedly pointed out to them that "that's my mommy!".

Q . It is a known fact that you have extensive knowledge about world cuisine and you indeed love sharing it with everyone 🙂 Share with us two recipes which can be prepared in ten minutes; not published on your blog yet and also share us your favourite cuisines. 
A: I'll vote for Vietnamese summer rolls, that can be done in no time by just soaking rice paper in warm water, wrapping up your favourite salad veggies /sea food. Also, crepes,  the batter for which you can prepare in two minutes. Served with nutella and chopped banana, makes the most delicious dessert in minutes.
My favourite cuisines would be Lebanese and Mexican, among many others. Nothing beats eating my traditional 'tambrahm' food, at a wedding, off a banana leaf though.
Q. Today's generations' mommies are always confused about what 'new' they can prepare for their child's tiffin. It would be great if you share with us two nutritious recipes which kids can enjoy in their breaks at school. 🙂 
A: Boiled egg is one thing you can prepare the previous night and shell in the morning. It makes a perfect lunchbox item, along with some rice or pasta. Whole grain bread with peanut butter and banana slices is another favourite. Due to popular mommy demand, I have a '30 day Kiddie Lunchbox' project currently running on my Facebook page where I post pics of my son's lunchbox everyday and tips on how to make some of those things.
Q: Do you promote your blog? What promotional techniques work best for you and why?
A: Honestly, there isn't much promotion happening. I post any new blogpost links on Twitter and my blog's Facebook page. I guess Twitter RTs and Facebook shares help spread the word about the blog and if the content catches people's interest, they will bookmark my blog and come back to it.
Q: How important is it for the blogger to interact with their readers? Do you respond to all the comments that you receive?
A: It is important, after all they are the audience and their engagement and interest is important to the blog. I try and reply to any relevant questions because there's only so much one can reply to a 'nice picture' or 'nice post' kind of a comment. Also, some comments would be better placed in a Google search box, but that is another story.
Q: What do you find to be the most gratifying aspect of blogging?
A: Initially, it is the journal phase, where you are happy to be regularly putting down entries. Next, is the interaction phase where fellow food bloggers visit your blog, leave comments, which is mostly a cue for you to go to their blog and leave your comment. This makes you known as a member of the blogging community and you end up getting to know fellow bloggers and some end up becoming very good friends. After that, comes the reader comments, when someone tries what you made and gives you feedback if it turned out right or wrong. And then comes the recognition when you get invited for blogger events, get written about in papers, get interviewed by Blogadda and such 🙂
Each of these phases comes with its own gratification. But my favourite of them all is people I meet along the way. I have made some amazing friends for life, thanks to blogging and that is more valuable than anything else.
Q: How, in general, would you rate the quality of Indian blogs? Share your favourite five blogs.
A: I don't follow too many blogs outside of food blogs, but yes there are some favourites and sadly one of them is in near permanent hibernation.
Q: What is your advice to someone who wants to start a blog?
A: It is never too late to start a blog. It's not always necessary to play to an audience, you can write for yourself and often you realize how much you've changed / grown even in a span of a year, when you look back at your writings. If you write heartfelt and engaging stuff, eventually your audience will find you.
Q: Do you earn revenue through your blog? How does one go about it?
A: Google Adsense once shocked me by mailing me a cheque for 5000 rupees and that was the first and last time. May be after this, the readers avoided the sponsored links like bubonic plague and I didn't get any more shocks in the mails.
Revenue apart, most of my food writing projects / columns are thanks to the work showcased on my blog, so that is a happy feeling.
Q: According to you, what is the future of Blogging?
A: I think it is here to stay, for a few years at least. My initial Twitter addiction phase made me wonder if I will ever want to blog again, if my attention span will ever stretch to write beyond 140 characters. But with practice, one gets back into blogging form (off and on) and it has its own audience, because not everyone is on twitter yet (thankfully so)  🙂

Q: Let's conclude off with a few favorites.
This feels like filling up Slam Books at the end of school years. Thanks for bringing back the "youth-feelings"!
Color: Other than black and blue, hot pink
Movie: The Pink Panther Series (Peter Sellers)
TV Show (other than food shows): Fawlty Towers, Forbryselsen
Book: Mark Bittman's How to Cook Everything Vegetarian (what else do you expect from a foodblogger?)
Time of Day: Early mornings (no kidding)
Your Zodiac Sign: Capricorn (does it really matter?)
Thank you for this interview Nandita. Friends, we also have to tell you that, apart from all this, Nandita sings as well. Check it out @ Soundcloud.  🙂