The feel of the printed sheet under our fingers as it holds a favourite memory vide photographs or precious words, the joy is inexplicable. If prints are so coveted, why are we still shying away from it? Is it because we have stopped loving prints or because we feel prints indeed cost more? Or maybe because the latter point surely influences the former love.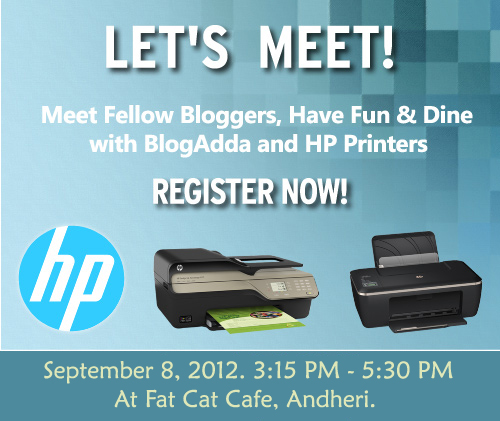 BlogAdda and HP give the bloggers in Mumbai a chance to come and fall in love with the world of printing all over again. We present an evening filled with surprises, on spot contests, exciting giveaways and lot of other things which are a surprise for now. Come discover printers which have re-defined the technology of coloured prints in terms of both longevity and affordability. Get to not only know the printers better but also to meet, interact and dine with like-minded fellow bloggers in this bloggers meet.
Date: September 8, 2012
Venue: At Fat Cat
Time: 3:15 Pm – 5:30 PM 
So sign up and mark your calendars, if needed take a print 🙂 – for this is surely going to be an evening filled with fun, excitement and more.
Click here to Register Now!
We are taking in only 25 bloggers! Hurry Up!