We have come across many different republics of the world, but have you come across something called 'Republic Of Chic'? A fascinating name indeed, and made us explore it further. Republic Of Chic is simply a thrilling extensive visual essay on fashion around the world and occasionally, my style, says one of the the leaders of the Republic Of Chic, Ruhi Sheikh. We present to you an interview that will take you into the world of Fashion and mesmerize you with its colours and styles. Ready?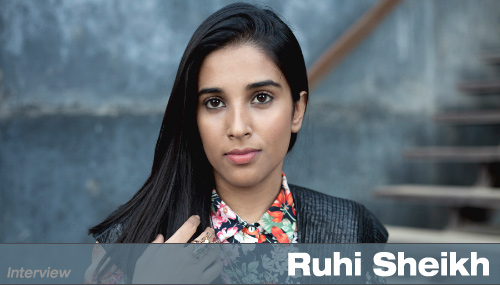 Q: When and why did you start blogging?
At first, it wasn't what was being said but it was the medium itself that got us hooked. Blogs – the new media in electronic media, had shrunk the enormity of the world and street style. From Stockholm to New York, it felt just as much in the neighborhood as did the stylish fish vendor on my street with her interesting saree prints and drapes. Faiza and I needed a D.I.Y space for our own style explorations and thus began ROC in 2010.
Q: What topics do you generally blog about?
ROC started as a personal style blog but has gone through many personality disorders since. 😛 I have come to accept this and now I blog about everything I fancy from the disciplines of design, art, photography, films and their influences on fashion today.
Q: Do you ever get stuck when writing an entry? What do you do then?
I am never blog un-inspired so no spanner in the works ever! 🙂
Q: Your father is an automobile designer, sister is a fashion designer and photographer while you are a CA by profession and fashion blogger by interest. That seems a unique combination of numbers and designs. 🙂 When did the fashion bug bit you? You earlier worked as a Risk Advisor and simultaneously started Republic of Chic in 2009. In 2010, you left your job; was your blog the reason for discontinuing the job?
I didn't quit actually. I finished my three and half year articleship which ended last year. I've always enjoyed fashion and it was a no-brainer that I'd end up doing something in fashion by the end of it all. ROC started as a creative (indulgent) outlet while on the job and it continues so. 🙂
Q: Indian designers must discard illusions of Bollywood grandeur and focus on wearability instead while designing – you suggested this in 2010. According to you, which designers in India focus on wearability? What freshness in designs do you find and like in the new fashion designers coming up in the fashion scene?
I think my definition of wearability may be a bit different from the norm, I like the concept of the garment to be simple but the design can be a narration – an elaborate work of art that I would absolutely wear anywhere, coffee date to red carpet, all is the same to me! It's my continuing fascination with the contemporary that keeps me excited for fashion, and the gen-next designers in India have been nailing it! Catwalks are teeming with swathes of intriguing textures, witty knits, experiments with ideas and forms – clever design making its way down runways. For wearable works of art, I always turn to Ruchika Sachdeva, Rimzim Dadu, Anuj Sharma, Kallol Dutta, Anand Bhushan or Rahul Mishra. 🙂
Q: If there is one thing that changes a person's look quickly, then what would it be? What styling suggestions would you give to people of different sizes and profiles?
Interesting headgear is always a promise for instant transformation. No size or profile bars for hats or headbands!
Q: Republic of Chic was started by you and your sister Faiza was its photographer. Does she also help you in the posts that you prepare for your blog? How does she manage her schedule, alongwith photographing for your blog?
Faiza is always up for challenging work and I think she enjoys the DIY punk element of the blog, where it is entirely our space for all sorts of crazy experimentation and presentation. This is where our style sensibilities match. It also helps that we live together. 🙂
Q: How would you describe your style and what would be your style statement? What kind of accessories do you like to wear? Do you also do Indian wear posts on your blog?
My style is a bit schizophrenic, but currently, since I've been living out of a suitcase for a month, it's very minimal with clever accessories built from things lying around the hotel room, souvenirs from the cities I've travelled to, or simply nuts and bolts from the neighborhood hardware store. Its been all about accessorizing; but I do also enjoy being creative with getting the most looks out of the limited 4 pairs of clothing I'm carrying. 😉
Q: In this year you've promised yourself that you will donate your time and/or money to a charity you're passionate about. Can you share more details about this charity & your involvement in it?
Um.. I'd like to keep this private. Haven't been able to afford philanthropy on a large scale anyway. 😛
Q: We have seen creations that are designed by you. Do you design for yourself or professionally too? Do you design regularly? Do you wish to pursue designing as a career?
Self-made garments are simply to fill the gap between staying stylish and relevant with times, and keeping it affordable while doing so. 😉 No grand plans for a career!
Q: Republic of Chic doesn't post much of fashion wear for men. Is there any reason for not experimenting in this area? Have you received requests for the same? How has fashion for men evolved in last few years?
I have received numerous requests, but it's a topic I know little of, so….
Q: You also are a personal shopper. Do you do it regularly? How far do you feel this profile has established itself in India?
I don't anymore. I work long and hard hours as an e-commerce consultant now – content strategy (in fashion) among other exciting roles, and I love it! After having blogged for an upward of 2 years, it feels like homecoming. 🙂
Q: How would you describe the fashion and style sense of girls in Bangalore? Share some vintage fashion essentials of this city and 5 shops you would recommend shopping at.
Bangalore is laid-back and beautiful as a city and the girls here take this forward in terms of style. They're beautiful but always comfortable. We each have our own distinct individual style and are turning more and more experimental by the day. Clothing is great at little thrift stores on commercial streets and MG road. Excuse me while I toot my own horn, when I say shop the Republic Of Chic Store for cool jewelry and accessories! 🙂
Q: If Ruhi had to choose any 5 things stylish, without which she never leaves home, then what would they be? Share your favorite designers, models and brands; why?
I'll tell you what I have with me right now, in fact! 🙂 A pair of stylish vintage sunglasses passed down from my mom, a classic watch (gifted by my dad), an attention grabbing accessory (a collar-necklace that is being whispered about at the coffee-shop where I'm writing from as we speak), a funky laptop sleeve and some safety pins and rubber-bands for when your outfit needs transformation from day to night or vice versa. 😉
Q: When Ruhi is not dressing up her blog and herself, how does she spend her time? Apart from fashion and styling, what other things interest you? Ruhi is a also a design freak. Share 3 things that you feel are well designed.
Republic Of Chic has been selling interesting and unique accessories for a year now, but I've also been hard at work as a content editor and content strategist. This is a relatively new field begging for exciting things to be done in it, so I spend a lot of time researching and brainstorming cool ideas. 🙂
Q: Do you promote your blog? What promotional techniques work best for you and why?
No, I don't. We have a ROC facebook page which is not so much for promotion, as it is a joint personal profile for Faiza and I, to put our everyday thoughts on fashion out into the world – styling inspiration and tips, interesting fashion photography, new Republic Of Chic jewellery collections and all sorts of ridiculous things people in fashion say, end up on the page. 🙂
Q: How important is it for the blogger to interact with their readers? Do you respond to all the comments that you receive?
I think its very necessary to know your readers on the basis of friendships, not as a networking tool. When time permits, I reply to readers who I've formed loving, interesting relationships with over time. 🙂
Q: What do you find to be the most gratifying aspect of blogging?
To be able to say whatever you want to say and say it the way you want it.
Q: How, in general, would you rate the quality of Indian blogs? Share your favourite five blogs.
Q: What is your advice to someone who wants to start a blog?
Do it! 🙂
Q: Do you earn revenue through your blog? How does one go about it?
I've landed a few consultancy jobs and writing gigs through the blog (what you do off the blog is where the real money is) but haven't earned much by way of ads because I haven't been very keen on them lingering in my pages.
Q: According to you, what is the future of Blogging?
Explosive!
Q: Let's conclude off with a few favorites.
Color: Unapologetically, black.
Movie: Currently, I Am Love for the incredible styling on Tilda Swinton.
TV Show: Pan-Am, vintage fashion, yes.
Book: Anything Bertrand Russell.
Time of Day: Nocturnal.
Your Zodiac Sign: Capricorn.
Ruhi, Thank you for taking us in this journey where we explored the different types of Fashion, style and much more. Friends, what is your style? Also, for all those who are interested in fashion and styling, we have something very interesting for you. Do check it out.