Let books be your dining table, And you shall be full of delights. Let them be your mattress, and you shall sleep restful nights. Today at your Adda, we have someone who believes in this statement. She calls herself a 30 something girl for whom reading, which was a time pass, has now become a passion. You will always find her with a book. In the blogosphere she is known as bookslifenmore. We are pleased to have Smita, the lady behind bookslifenmore to your Adda where we try to find out more about her life minus the books. 🙂 Time to read the last interview of 2011.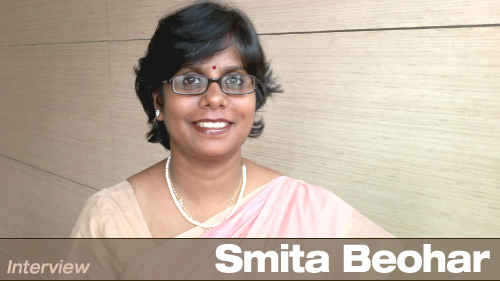 Q: When and why did you start blogging?
When I moved to Mumbai I was looking out for friends and it was then that I discovered internet in a different sense. I say different sense because till now I had been using it for mails, reading movies related news, chatting, etc. However, back in 2007 I realised that it can be used as a platform for putting across our views & opinions too. So, it was then that I joined a review based site, had a freak of a time for a year & made many friends. However, few issues forced me to look for an alternate platform and it was then that my friend Wian told me about blogging and as they say, rest is history. I wrote my first blog post in 2008; fortunately have been quite regularly updating it. 🙂
Q: What topics do you generally blog about?
As the name suggests; my blog is all about Books, my life & anything & everything that happens in it. When I had started blogging I was quite enthusiastic about it and anything that used to happen in my life was seen with the perspective, "can I blog about it?", and that's the very reason that you will see many posts under the label "Nonsense" in my blog. In fact, I remember a cousin's comment, "I know what has been happening in your life, I read your blog," that I think quite sums it. I can go to the extent of saying that my blog is a direct reflection of what I am in real life so if you have been following my readings you know me very well. 😉
Q: Do you ever get stuck when writing an entry? What do you do then?
Oh I do. In fact I got stuck in this questionnaire as well. 😀 Usually when I start writing a post it is already half written in my mind and jotting it down is just a formality but then there are days when I know what I want to write, I open a document but as soon as I start keying-in, the creative juices dry up. On such days I just close the window & start doing something else. Not that I don't feel guilty of not updating my blog but then I also feel that a post shouldn't be forced out. It should come naturally. Psst hope my answers don't look forced. 😉
Q: Do you promote your blog? What promotional techniques work best for you and why?
Not really. Though I do have my blog registered in many networking platforms (as you can see from various widgets on my blog) but I create IDs and forget the passwords.The only thing that I actively do is I cross posting the link on my twitter ID though that hardly gets me any traffic. But yes when I had started blogging I was obsessed with the fact that when somebody searches for a book review my page should come on the 1st page of Google&back then I had read loads of articles to increase my page views, had tweaked some code in my blog, done some SEO research as well but over the time the obsession has disappeared.I read blogs of likeminded people comment there and leave my blog link there. That's it.
Q: "It was in Ahmedabad where I found myself". What was so special about Ahmedabad that made you discover yourself? Share with us few moments/stories that are close to your heart.*
Ahmedabad is the place where I began my career, got my first pay check, bought my own two wheeler, found the ardent reader in me & most importantly got fiercely independent. The city holds many memories for me but the day when I had shifted into an independent house would count as one of the most memorable day. The whole process of setting up of the flat in bits & pieces is something that I will never forget. I had hard time convincing my parents that I could stay alone in a flat but it was all worth it. I still remember the pride that I saw on my Mom's face when she saw the well kept (it was specially cleaned that day) house for the first time.
I had never had any favourite city till I found Ahmedabad and am still in love with it.
Q: You have read and reviewed lot of books. Haven't you ever thought of writing a book someday? What topic would you like to explore?
Not that the thought has not crossed my mind but the fact is I know my limitations. I feel I am not creative enough to weave a story which can last as a whole book. The only story that I had in my mind was coming out of my experience in college and unfortunately that topic has been beaten to death by so many Indian authors. So, the current status is that I have chickened out. And somehow I don't feel that because I have reviewed so many books I can write my own. Nah!! I need something more in me to, for that I don't have "that something more".
Q: Blogging sometimes makes you feel that there are people who know you more than you wouldn't even realise. Has blogging helped you evolve in someway? What things would have been amiss if you were not a blogger?
Yes it has helped me evolve in a way because come what may, I have a platform where I can put across what I really feel. Sometimes we have strong opinions about things but when we put it across in words & have an interaction with people on the subject, it throws so many different views of a simple thing. So yes, blogging had made me look at things with a larger perspective.
The only thing that I would have amissed by not being a blogger is a lovely bunch of friends that I have made here.  🙂
Q: Off late we have seen many new authors, and some more who have quit everything and turned to writing. What are your thoughts on newbie authors?
They have guts!
I have always believed that everyone has a special dream & aim in life but we are so bound by society & duty that we don't take the plunge to do what we really want to do. So anybody who has the guts to drop everything just to chase their dreams, hats off to them. But yes an appeal to the new authors, "you have shown so much guts in taking this step, you will not lose anything more if you give us a story which is beyond the beaten path that Indian Contemporary writing has taken."
Q: Indian publishing scene has shown an upward trend in the last few years. Do you see that continuing in the long run? We have also noticed the advent of e-books. Do you feel that in future, e-books will be preferred more, considering that it is also an eco-friendly alternative?
You know why I had started reading Indian authors? Because I could relate to them. Not that I didn't enjoy reading foreign authors but I could never relate to the way they handled emotion, relations & for that matter even breakfast. Imagine this narration, "the breakfast was laid, I had a glass of freshly squeezed juice followed by croissants, sausages, ham sandwich and cup of freshly brewed coffee." The foodie I am, I couldn't even imagine what they were having, which spoiled the whole experience for me but when it comes to Indian authors, things are different. You can relate to the city, habits, emotions & the way people behave.
When I had started reading Contemporary Indian authors (CIA) the Indian chick lit was just coming in and the prices of books written by CIA's were anywhere between 295 – 400 bucks which was pretty expensive. No wonder we could hardly see Indians reading Indian Authors and then Chetan Bhagat happened.
Prices have crashed, there is a flood of new authors & you can see so many youngsters reading fellow Indian authors. Though in the process the quality has suffered but I feel that in the long run, things will only improve because reading is a habit which once cultivated will surely be passed on to generations and the more one reads the more one demands for better books. 🙂
E-books are not for me because unless I feel the pages in my hand, I smell the musty smell of a book and don't sleep with a heavy book kept on me I don't feel I have read a book. So e-books might be eco-friendly but I do my bit for it being vegetarian. 😉
Q: We have seen you writing very few posts on fiction on your blog. The ones you have written is certainly a good attempt. What is the reason that you refrain from writing such posts?
Well, I don't feel that I am creative enough to weave a story which can captivate people and that's the reason nothing much comes out from my keyboard under that label. 😉
Q: I feel men in general take things for granted – quoted from a post written by you in 2009. Two years later, has this thought changed? What is your idea of a perfect man? 🙂
Hahahaha!!!! The only thing that has happened in last two years is that the thought has become stronger. 😀 And trust me there is nothing like a "perfect man" because how much you guys might change for us, we keep changing the definition of perfection.
Q: By reading books of different genres and topics, what impact or transformation has books brought about in your life? How do they inspire you?
I read for pleasure and am not generally looking out for inspiration but I cannot say that the books haven't influenced me. I am not sure but yes may be my thinking, perspective of looking at things, etc. has changed. Books surely throw in front of us many new perspectives & ways of looking at life.
Q: Your post on Motherhood learnings was indeed very sweet. 🙂 How has the experience been till now? Share few things of lil one with us. 
Thanks for the nice words. 🙂 Motherhood brings in a new experience every day. Not a day goes by when I am not learning a new thing about raising a child. L'lle one right now is at a stage where he is doing something new daily and I can write realms & realms on him but let me share his latest passion. He has suddenly started enjoying the fact that he can balance things. So what he does is gets his big car, keeps a small car above it and then expects us to clap after he has achieved the feat. We proud parents obviously indulged him. But he took this indulgence to another level when kept a car on a piece of paper & expected us to clap. 😐 And to top it what he does next, he takes a piece of paper, keeps another onto it & looks at us expectantly.
I am sure next he would be asking for an audience & clap while he is doing his potty. But all said & done life is fun with him around.
Q: More than 80 books have been reviewed by you. How do you get time to read so much, with a young son, and write such detailed and meaningful reviews? Which are your favourite authors?
Err! The dreaded question. I read while travelling in locals, I carry my book in the washroom or wherever I go, in short I carry a book with me whenever I am travelling alone and manage to read as much possible. I feel if you have the will to do something you will always take out time for it and the same happens with me as far as reading is concerned.
As far as reviewing is concerned, I still have a long way to go, I haven't reviewed even half the books that I have read, wish had more time. Neither are my reviews as detailed but while writing one I try to keep it simple & crisp.
As far as my favourite authors are concerned, I love Ruskin Bond, Chitra Banerjee Divakaruni, Manju Kapur, Aravind Adiga and Sophie Kinsella to name few.
Q: You also have a food blog where you did about 2 dozen posts. Why did you stop updating it? Which is your favorite dish to cook and eat?
Lack of time is the sole reason for lack of Updation in that blog. There was a time when I used to click step by step pictures of dishes that I would be cooking so that I could later upload in the blog, hope one day I get to me to publish those.
I am very passionate about cooking & baking but have no favourite dish as such but yes I love experimenting & trying new recipes.
Q: How important is it for the blogger to interact with their readers? Do you respond to all the comments that you receive?
I take it like this, anybody who comments on your blog is in a way visiting your home & wouldn't it be bad if we don't welcome them? Similarly, it is very important for us to interact with the readers because if they are taking out time to comment on your blog then the least we can do is to reply to them. There was a time when I used to reply to every comment in my blog but unfortunately I have lagged behind in it because of paucity of time. These days I do not get time to blog from home and as far as office is concerned there is enough work to finish. So, when it comes to choosing between commenting on other's blog and replying to comments, I chose the latter. But I do try my level best to reply to all the comments at one go even if it means being late by 10 days.
Q: What do you find to be the most gratifying aspect of blogging?
The fact that come what may there are at least these many people who will always listen to what you have to say. These are the very bunch of people who will even take up a fight with strange bloggers if they say anything against you or your post.
Other thing that manages to flatter me is when someone says "I was waiting for your review before buying a particular book". On one hand it makes me happy & on the other hand it leaves me with a sense of responsibility to deliver.
Q: How, in general, would you rate the quality of Indian blogs? Share your favourite five blogs.
I have only read Indian blogs and I feel that the standards are just getting higher & higher.
Q: What is your advice to someone who wants to start a blog?
Be yourself, write from your heart, update regularly, write what you believe in & don't get into the vicious circle of writing on topics that you feel people will love reading because a blog is a personal space which reflects who you are and your reflection can never be decided by popular demand. Every individual is unique & so should thy blog be.
Q: Do you earn revenue through your blog? How does one go about it?
The only thing that I earn through my blog is the review copies of books that I receive. Not that I didn't try getting an AdSense account activated (I have tried some 13 times) and every time it has been rejected! So it is me who needs to learn to how to go about it.
Q: According to you, what is the future of Blogging?
Errr! I dunno how to answer this one. But yes I love the fact that bloggers are getting better coverage in the media. Earlier I used to feel what we are achieving by venting out here but over time I have realised that collective voice of bloggers is being heard across and taken seriously. I am sure things will only get better.
Q: Let's conclude off with a few favorites.
Color: Pink
Movie: All Salman Khan movies. 😀
TV Show: Left Right Left
Book: Too many books around I wish I could read even half of what has been written till date.
Time of Day: Any time.
Your Zodiac Sign: Capricorn
It was a pleasure interviewing you Smita. Keep reading and keep sharing with us your thoughts on all the books. We wish that you get "that something more" and soon come out with your new book. We would love to have it as a part of our Book Reviews program. 😉 
Connect with Smita: Blog, BlogAdda, Twitter.