How many of you want to visit Ladakh-Leh once in a lifetime? How many of you dream of visiting all the beautiful places in India and the world? Everyday we discover such amazing bloggers who are living their dream. We have one such blogger interviewed at your Adda, who is following her passion and living her dream. Photography & Travel are one of her passions, she discovered after years of working as a market and social researcher. We are extremely pleased to have Charukesi at your Adda, as she settles down to talk about her life, travel stories, career and lots more. Take your seats, ladies and gentlemen, in front of your monitor to get inspired. 🙂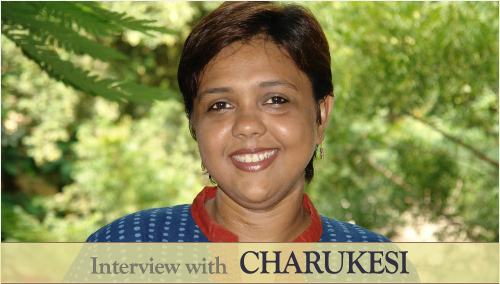 Q: When and why did you start blogging?
A: I started blogging in August 2003 with blogger – a year later, I moved to my own domain and soon, started my travel blog too. I did not have any definite aims with my blog – it was initially just a place to put down my thoughts on topics and issues that caught my attention or were important to me.
Q: What topics do you generally blog about?
A: On my main blog (A time to reflect), I write on a variety of subjects – advertising and marketing, books and movies, pop culture, gender issues, development issues – all of them are subjects that I have an interest in. My travel blog (Itchy Feet) is for my stories and photographs from well, my travels!
Q: Do you ever get stuck when writing an entry? What do you do then?
A: Often. I don't like to push it then, because I know it does not work. I just jot down any thoughts as points and save the draft. I go back to it when I know the words will flow.
Q:  Vamsi, like you, is also a traveler, and your companion through your travels. Interestingly both of you would want to make this as your career in the near future. What is the gameplan that you both have charted? In what way are you working towards it? Which was the trip that forced you to think and eventually made you decide that this is it, this is going to be our career?
A: This is no longer the case. While I still have a plan (call it a dream) to create something around travel, Vamsi is back in a full-time job as of a month ago. I cannot think of any specific trip that made us feel this way – it is just that we both love travel and I would love it if I could make it a viable career. As of now, I write travel stories for publications.
Q: Charukesi is a qualitative market researcher while Vamsi is a digital marketing consultant. 30 days of holiday in a year is what a normal person gets. How many do you get and what are the things you plan before you go on a holiday?
A: Over the years, we have learned to take short breaks – 3-4 in a year, lasting for 3-4 days, inside India (usually a long weekend). I work on my own, so taking time off is not a big issue for me but with Vamsi, we plan longer holidays carefully so as to be able to get mamixum from each of them. Between us, I am the planner – I enjoy doing the research on the Internet, comparing prices, finding new and interesting places to stay in and so on. And I force myself to leave something to chance, to spontaneity while on holiday – otherwise, I am the types to plan every single minute.
Q: A good travel blog is easily identified by the amazing photographs in it. You love to capture the essence of a place through your photographs. How much do you stress on the photographs and the location? Your favorite travel theme is a poem by Walt Whitman – Song of the Open Road. What are the interests you pursue other than photography when you hit the open road?
A: For me, it is almost like I see a place through my camera. Not the best way perhaps, but it has served well for me since I use them as travel notes once I come back and start writing about it. And more than location shots (been there, done that types), I like to capture images of the local culture, markets, people, street life and so on. While on travel, we both like to interact with new people, both locals as well as other travelers. We've met some interesting people and made good friends that way. We also like to try out the local food – which, as vegetarians, sometimes proves to be challenging, but so what!
Q: While traveling, you meet so many interesting people for whom tourism is their bread and butter. For eg. a guide, a gola-vala, a food stall vendor and many more alike. Everyone has a story of their own with their own struggles and happy moments. Can you share some moments which have impacted your lives? Any incident, person?
A: Right now, I cannot think of a single person – but overall, during my trip to Ladakh, I was very impressed with and moved by the way the people of Ladakh felt about their land – a simple and strong connection.
Q: Your inspiration for traveling is Alice from Alice in wonderland. What are the things, apart from things of heritage value, which make you so passionate about traveling? Since heritage is something which is a common passion that you and Vamsi share, what do you think about the heritage places of India? Do you think it needs more attention and preservation?
A: Definitely. People need to have a sense of pride about their heritage, about whatever their ancestors have left for them. But graffiti, defacing monuments, throwing rubbish – these are common. We love to talk about our 'great culture', but forget that these are part of it.
Q: Traveling to a place is always a good break from the usual hectic schedule. What are the roadblocks that a frequent traveler faces? Tips on how you can avoid them?
A: The best-laid plans go awry while on travel – delayed flights, lost baggage, local problems, anything could happen. So it is critical to have back-up options, keep an open mind, be ready to change plans at short notice. Language, food,  these might also be problems for the traveller.
Same tip: Keep an open mind and be willing to experiment and learn.
Q: If you were to handle the Tourism board of India, what are the 5 things that you would want to change and why? How can India attract more visitors and earn surplus revenue from the tourism Industry? How do you feel about rural tourism and its development in India?  A lot of travel advertisements are being seen on TV, which is your favorite and why?
A:
Make the process of getting a tourist visa to India easier and simpler.
Encourage, if necessary, build and let out or maintain mid budget hotels and guesthouses (the key word is maintain) – we have either high end star hotels, or really low end lodges.
Train guides to be friendlier and people in general to be polite and helpful to visitor, like Aamir Khan's Atithi Devo Bhava advertising campaign, but implemented in earnest. India is an attractive and affordable destination for visitors from the West, but we lose out to countries like Thailand, which have great infrastructure and friendly people who are not out to fleece and cheat the unwary.
Rural tourism in India is a long way off from being an attractive option. Let us first focus on the urban / established destinations – heritage, beach, mountain, adventure and so on.
My favourite travel ad – for MP tourism – it's catchy, attractive and presents MP as an exciting destination.
Q: As an ethnographer, what do you think needs to be improved in the research industry in India? What do you have to say to people who want to take ethnography as their career?
A: I am not focusing almost entirely on my writing career – my research life is from another life!
Q: What do your friends and family have to say about the travel bug in you & your itchy feet? 🙂
A: My friends envy me – they wonder how I manage to do it. And they ask me for suggestions and advice when they plan their holidays. My family – I think they have given up on me! As long as I visit my parents and in laws between these other trips, they are alright with it.
Q: Old Hindi songs are to die for, and you are one of those who loves them. Which are your favorite songs that are your companion along the road trip? Do Charu & Vamsi like to travel as a couple or as a group? Do you have fellow travelers? Also, what do you feel about the songs of recent times?
A: We almost always travel as only the two of us, occasionally with a few friends but never as a large group. I shudder at the thought of traveling in a group. Old Hindi songs are always good companions – we both love Kishore Kumar numbers and play them regularly while on the road. New Hindi film music? Not all of it is bad – most of it is truly terrible, but there are some catchy hummable numbers. The thing is, they don't stay in the mind for more than a few months, the way old classics do.
Q: You have traveled to many places in India. Can we know your favorite among the lot and about its culture, people, values, etc.? Where are you both traveling next? What kind of places do you normally like to visit — Temples, vintage forts, hill stations, beaches, etc.?
A: My favourites in India – Ladakh, Sikkim (both for the local people and culture) and Hampi for its exquisite architecture. We travel to all kinds of places – I love mountains and old forts and palaces. Vamsi likes the mountains. Neither of us are beach type people.
Q: You write on your travel blog, in magazines and dailies like Forbes, Mint, India Today Travel Plus, update your website, have a personal blog and Mindspace is another blog which is your personal book mark of new ideas and perspectives on qualitative research. How do you manage to be updated online & offline with so much to handle? Does Vamsi also write for publications? When you are not traveling, what is your normal day to day schedule like?
A: Vamsi does not write anything anywhere! From the minute I wake up, I am on my laptop – I read hundreds of blogs, websites, social network updates each day. I also write general newsy or lifestyle features which are non travel articles, so I always have my eyes and ears open for new and interesting stories.
Q: Last but not the least, did Vamsi and Charukesi meet while traveling? How did this love story begin?
A: We met in our post graduate course – MICA – Mudra Institute of Communication, Ahmedabad.
Q: Do you promote your blog? What promotional techniques work best for you and why?
A: I don't do anything to consciously promote my blogs. Off late, I have been posting links of my latest blog posts on Facebook and Twitter. My travel blog has been featured in a few magazines and newspapers and I have got some new readers through that.
Q: How important is it for the blogger to interact with their readers? Do you respond to all the comments that you receive?
A: It is very important – it is an essential part of the blogging process. And it is one the things I love about blogging – the two way communication. I try to respond to all comments but sometimes slip up.
Q: What do you find to be the most gratifying aspect of blogging?
A: For me, the biggest thing has been coming across new ideas and people whom I would have never met otherwise. Some early bloggers are now good friends.
Q: How, in general, would you rate the quality of Indian blogs? Share your favourite five blogs.
A: Some Indian blogs are excellent – especially those who write with a passion about things they care for. Some of my favourite blogs are:
Q: What is your advice to someone who wants to start a blog?
A: Write about things you care for, write regularly even if small posts and interact with your readers.
Q: Do you earn revenue through your blog? How does one go about it?
A: I don't earn direct revenue from my blog. But it has been my calling card for many years now – I get work through my blogs, as people who see it approach me for writing and research work.
Q: What is the future of Blogging?
A: Blogs will be as popular as they are now – there may be more of specialist blogs in future.
Q: Let's conclude off with a few favorites.
Color: Black.
Movie: Chupke Chupke.
TV Show: Friends.
Book: To kill a mocking bird.
Time of Day: Dusk.
Your Zodiac Sign: Taurus.
Readers, are you ready to pack your bags, say 'No' to your job and follow your passion? Charukesi will help you to stay motivated and will suggest you the best places to visit. 🙂 Do send us your feedback on the interviews so that we can constantly innovate and make your reading experience a pleasurable one.