In the recent times, there has been a huge growth in the Indian startup scene, especially in the IT sector. Some of them have done wonderful, while a lot of them are working hard to be successful. There are a few individuals who are creating an extremely good resource and support for these startups and we have one such person at BlogAdda today. Armed with an IIT & IIM degree, he chose to start blogging and has today created a wonderful engaging community in the form of Pluggd.in. We welcome Ashish Sinha to share his early days learning, tips & advices for startups and so much more in this fascinating interview.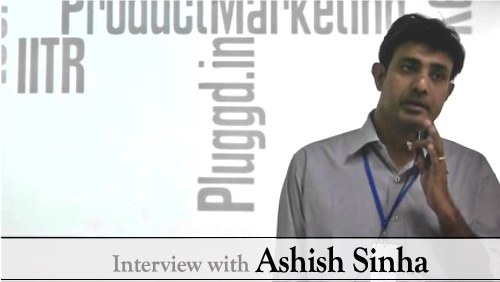 Q: When and why did you start blogging?
A: End of 2006. The initial idea was to 'just do it', as everyone around me was starting his/her own blog (it was a cool thing to have your own blog, those days). But the idea of focusing on startups came when I noticed how irrelevant Indian media is when it comes to profiling startups, giving them hard-hitting (and relevant) feedback. There were hardly any bloggers talking about the product industry in India and that's when the idea of Pluggd.in came to me.
Q: What topics do you generally blog about?
A: Mostly, it's about Indian startups, Entrepreneurship and we do cover updates from Mobile and India Online industry. Personally speaking, I write a lot on Product Management discipline and going forward, you will notice a lot of action on some of the hard core industry verticals (like Cloud Computing).
Q: Do you ever get stuck when writing an entry? What do you do then?
A: A lot! And in such cases, I immediately shut down my laptop and go for a ride on my Enfield. I am not really sure what's the connection, but while driving my Enfield, I get a lot of idea on blog posts. And whenever I have written a post resulting out of these drives, they have been a huge success! I also make it a point to note down my thoughts in the diary, so that I can revisit them later.
Another point I'd like to make here is that if you keep listening to your readers, you will get a lot of ideas on blog posts. Dec of 2010, we asked our readers for feedback/suggestions on Pluggd.in and most of our new areas of focus are a result of those suggestions.
Q: Do you promote your blog? What promotional techniques work best for you and why?
A: So far, we haven't done any promotion. Neither in social media channels nor in any form of advertising. What has worked for us is the clear focus on content and the user segment.
Q: For 2.5 years you ran the show alone at Pluggd.in. What was your daily schedule like? What effect did it have on your offline life? What are your tips to balance between work and family?
A: It was crazy. I didn't take a day off from my work for 2 years. I'd work late in the night (till 2 AM), schedule posts for the next day and the result was a seriously crippled offline life. Frankly, one has to really look at ROI of such activities and measure them against the sacrifice you'd wanna make in your personal life – most of such decisions have a long term impact.
Q: You started Pluggd.in to help smaller companies reach out to the community and help them get feedback. Can you share with us some of the early success stories which helped you strengthen your belief on what Pluggd can do?

A: A lot of startups have got a call from some of the well known VC firms within an hour of us writing about them on Pluggd.in. In fact, some of the startups got instant feedback from the community which helped them in shaping the product.
In some cases, startups got so much of demand/business from our coverage that they had to setup sales office in cities which wasn't even in their roadmap. For more stories, you can look at our testimonial section.
Q: For Startups in India, what are the 5 do's and dont's that you advise based on your experience?
A: Do's
Focus on product and not so much on your credibility of whether you are from IIT/IIM; have a lot of media connects.
Have a hypothesis and test it out before you build the big fat elephant (i.e. the product).
Launch a minimal product – that does just one thing. And does it really well.
Focus on building relationships. Not just from media/bloggers etc, but from investment community as well.
Talk to customers.

Talk to them as much as possible, but don't let 'a' customer become 'the' customer.
DONT's
Raise money only when you need it. I am not sure why there is so much of buzz about VC money, when a startup hasn't even validated their hypothesis.

For God's sake, stop considering your feature as a product.

A lot of startups tend to consider one feature difference (from an existing service) as a product, though in reality that's just an incremental value add for the user.
Always know who is giving you the feedback on your product. A lot of Indian startups tend to get swayed by these feedback, without even understanding the context of the feedback (friends/family will never tell you that your idea is bad, so talk to potential/target customer segment).
Never attend an event that promises you 'angel fund'. I know of a lot of such event/media companies and most of such events are meant for making quick money, and add no value.
Please do not consider media coverage as success!
Q: IIM and IIT, the top institutions of India hold a prominent place in your resume. In what ways did having these two help in your life? In retrospective, would you have wanted to do something else?

A: Apart from great contacts and peer pressure, I don't think the degree has really helped in any way. I mean, I am doing something which most of my college friends do not really understand ("blogging? Why do this??").
Q: Two successful editions of UnPluggd are already held. How different do you think is UnPluggd from other startup events?
A: One of the main thing that we focus on is the CONTENT. I am sure you guys must have attended a lot of other startup events, but do you have memories of any of these events? Most of startup events in India failed on their core customers – they tend to be more VC friendly than startups. They tended to be more hype than value.
For UnPluggd, we do a lot of background activities. I personally interview 30 entrepreneurs and select the 5 who share their journey with the audience. With the second edition, we have also started showcasing promising early stage companies and the first such demo event itself got around 250 nominations. The next edition of UnPluggd will be announced very shortly and we expect a good number of participation from tech startups.
Q: Pluggd.in is one of the most read business website. What do you think sets you apart from others in the same space? What else are we going to see from Pluggd.in in the future?
A: In terms of traffic, we are more than some of the known media sites and are growing steadily in key categories. I believe one of the things that works in our favor is our non-media approach. We tend to stay away from media like stories and provide analysis/coverage which is helpful for our key user base, i.e. startups. If you focus (and add tremendous value) red-eyed (i.e. passionately) on the key segment you are addressing, growth is bound to happen.
Future plans:
We have announced India's first event startup contest (PowerPlug), where technology entrepreneurs (specifically early stage) will submit their entry and fight for a free iPad — every month. Traditionally, most of these startup contests happen once a year and winners are usually the companies who are crowd's favourite (for instance, best Internet startup will either go to redbus or flipkart). But as an early stage startup, where do I get recognition for the activity I am doing? The PowerPlug Contest is precisely solving this.
AngelConnect Platform (99seeds.com). We are currently under closed beta and will open up our angel connect platform to startups.
A lot more focus on few verticals like cloud, app space and social entrepreneurship.
Q: 'Chasme Buddoor' is one of your favorite movies. What are your other favorites? What do you think about the movies that are coming out these days? 🙂
A: 🙂 Love this question. Here is my all time fav – Lakshya, Chashme Baddoor, Jaane bhi do yaaron,Sholay, Main Azaad Huun, Zanjeer (actually all of BigB movies). Some of the recently movies (2009 onwards) include Rock On, Johnny Gaddar etc.
Q: Which 5 Indian and International startups would you place your bets on in the coming years?
A: Indian: InMobi, RedBus, Ideacts, TringMe and Pluggd.in [:)]
Q: We have seen a lot of startups performing well initially but then find it difficult to scale up. What should be the approach of these companies at this stage? Any personal experiences or general examples to share?
A: That's where hiring great talent matters. Look at some of the most successful startups (in India or otherwise), they have hired great guys and essentially founder has to let go of some of the responsibilities. This is something that a lot of Indian entrepreneurs aren't so comfortable with. Most of them want to have a tight control over each and every aspect of the company. While this is good strategy in the early days, it also is a growth inhibitor.
Q: How important is it for the blogger to interact with their readers? Do you respond to all the comments that you receive?
A: VERY IMPORTANT. The only significant difference between blogger and media journos is the interactivity with readers. I do try to respond to comments on Pluggd.in, though I wish I could do more of it.
Q: What do you find to be the most gratifying aspect of blogging?
A: The fact that a lot of startups have benefited from coverage on Pi and its immense gratifying when they send us a 'Thank You' note.
Q: How, in general, would you rate the quality of Indian blogs? Share your favourite five blogs.
A: I will be very candid here. A majority of blogs in India reproduce the content written by Engadget, Gizmodo, Lifehacker, TechCrunch etc. and there are very few original content creators (in tech space at atleast).
As far as favorites from India are concerned, I guess there isn't one. Otherwise, I read A VC, Tim Ferriss, Seth Godin and Nicholas Carr's blog.
Q: What is your advice to someone who wants to start a blog?
A: Just do it! Carve your own niche and don't start worrying about $$ from day one. Build an engaging community around the content and you will see a lot of $$$s flowing in.
Q: Do you earn revenue through your blog? How does one go about it?
A: Revenue? Well, Pluggd.in is the main source of revenue for our business.
As far as building a business out of blogging is concerned, one has to develop a niche and monetize it accordingly. If you are too dependent on Google Adsense, its not a fun business; you have to go out and sell yourself.
Blogging is like any other profession and needs the same amount of 'dirty' work – i.e. selling, marketing etc.
Q: Let's conclude off with a few favorites.
Color: Blue
Movie: Jaane bhi do yaaron
TV Show: Chota Bheem
Book: Jonathon Livngstone Seagull.
Time of Day: 11 pm – 2 am. This is when I actually get the much needed peaceful environment to focus on the blog posts.
Your Zodiac Sign: Cancer.
Thank you Ashish for this learning filled interview. Indian Startups, this is one interview which you cannot miss and bloggers, we can learn a lot from this man. He has single handedly nurtured Pluggd.in and if you want your blog to be successful, here is an inspiration.