Diwali is just around the corner. This weekend, we are sure many of you would be wondering how to decorate your house. Prachi Grover, our freshest guest blogger, is at our Adda to make your job very simple. In this guest post, she shares with us diwali decoration tips and how to make your house look more colourful and bright. Read on and hop over to Prachi's blog to show some love if you like her tips. 🙂
I love this part of the year. The weather is just beautiful. My tiny balcony garden is bursting with golden yellow marigolds. And Diwali is just round the corner (it is undoubtedly my favourite festival).
The warm glow of diyas, invigorating fragrance of gainda & mogra, muted golds & deep reds, hot gulab jamuns & calorie laden cashew nuts and the gorgeous plates that my grandmother so lovingly gifted me years back.
Candles, Flowers, Colours, Food & China. My Diwali is always made up of these. Isn't yours too?
I have always believed that dressing up the home for festivals doesn't necessarily mean burning a hole in one's pocket. But it sure does require tons of creativity and that is exactly what we are going to talk about today. I lurve how each of the five Diwali elements can be tinkered around with and used innovatively to create gorgeous centrepieces that will definitely make one house proud and the house oh-so-pretty!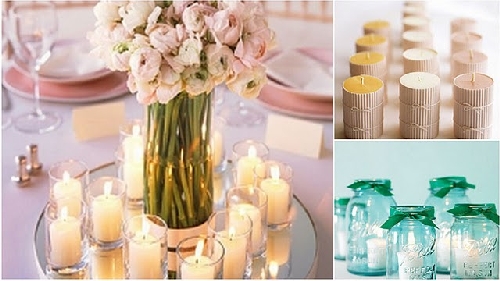 Candles are obviously a must on Diwali & nothing can make your home look & feel more festive & inviting than a bunch of these versatile pretties. The trick is to present them differently. Fish out that corrugated packing and dress your candles with them, loads of empty jars make lovely candleholders or simply put them all on a mirror for that extra glow!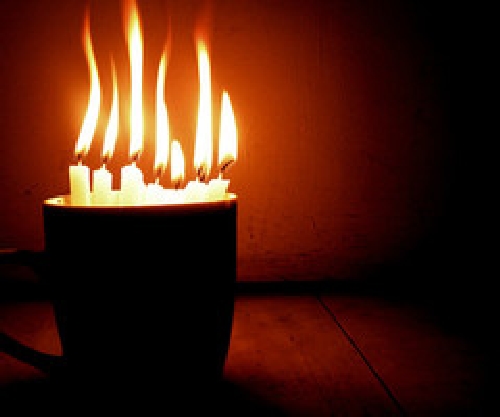 Don't have the heart to burn pretty candles? Light up dozens of ordinary white candles in a big pail and watch them become extra-ordinary!!!
Let's dive into our sideboard now for some china & silver.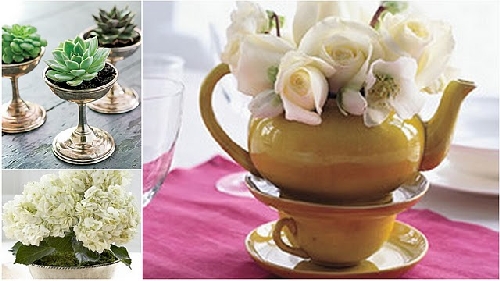 Bring out those silver bowls you got as a gift but never had the courage to eat in…fill them up with water, put in a flower or two and you have a gorgeous centrepiece. Silver ice cream cups make stunning planters. Or how about that teapot that you always wanted to use but hectic mornings never allowed you to, fill it up with roses and get some heads turning.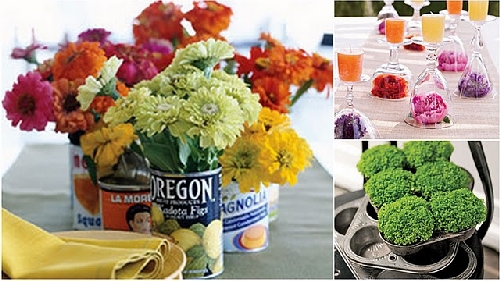 Blooms inside inverted wine glasses with candles on top… now that's a three in one! Who says muffin trays are only meant for baking? Swoon! Re-use pretty tins to make little bouquets. Or stack a number of your regular dinner plates, throw in a pair of silver bangles & some tealights and you have a winner on your hand.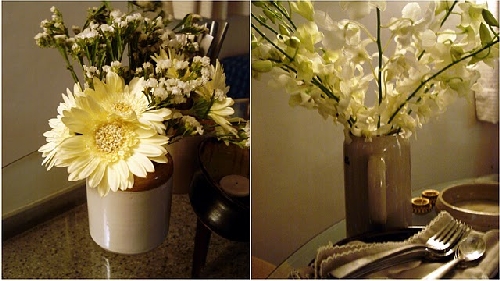 Flowers don't need vases. DH's beer mug, an old aluminium bucket, a flower each in a wine glass as you just saw, your mum's pickle jar or a coffee tin from your recent shopping trip.
Ransack that pantry & empty that fridge to make edible centrepieces.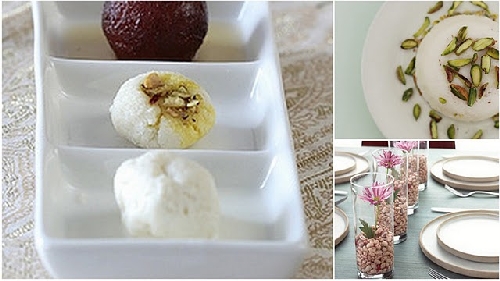 Present a piece each of the different mithais you are going to serve artistically & give your guests a sneak peek, gulab jamuns on skewers, barfis sitting pretty on a plate; add a gota or two. Use lentils around a floral sponge to make it interesting.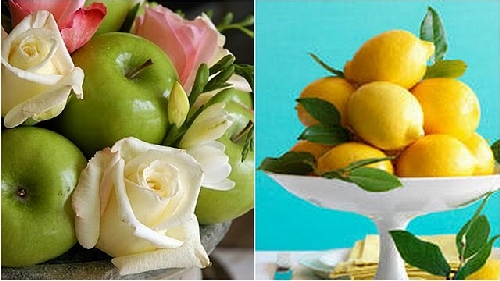 Fresh apples with flowers; add warq to make it all shimmery… drool! Or simply bring out those great looking lemons & throw them in a bowl. Can't get better than this right!
Or if you like to serve pastries & cookies… Try putting together different pastries to make one big cake. Will look delicious & I am sure will taste yummy as well. Simply tie up some cookies with a ribbon and you are good to go!
Deep maroons & muted golds, zen like turquoise & shimmery silver, pale cream & glowing copper are some of my all time favorite color palettes for Diwali. Which one is yours?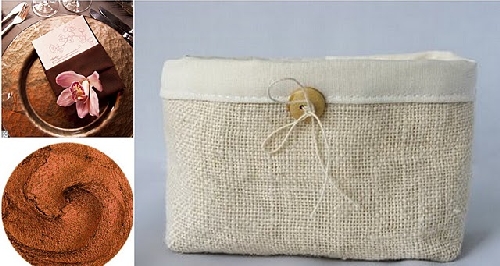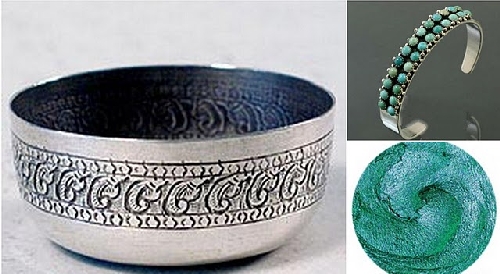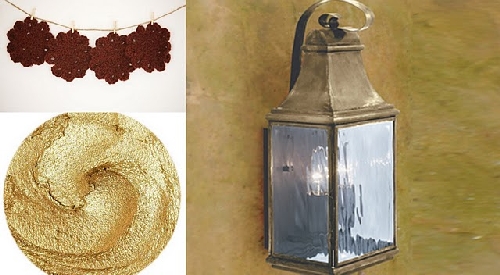 I hope you had fun going through this post ! I sure had a lot of fun putting this together for all of you. Wishing all the readers of BlogAdda a very happy Diwali!
And don't forget to share your lovely creations for Diwali with all of us here
Images Credits : 1,2,3,4,5,6,7,8,9,10,11,12,13,14,15,16,17,18,19,20.21.22.23,24,25,26,27 & some others that I have lost the source of.
Prachi studied management and worked for a couple of years until she gave it all away to follow her heart. Now she divides her time between pursuing studio pottery, designing  products, conducting pottery and paper craft workshops, writing design & decor columns for magazines and ofcourse writing her blog purplehomes.
She also freelances for a number of organizations & clients on projects that require creative consulting or a design direction.
If you are interested to contribute/guest blog at BlogAdda, write to us now!