BlogAdda sets another trend! With the recently concluded NASSCOM India Leadership Forum 2010, we brought the coverage live as the official 'Social Media Live' Partner for the event. We are happy that so many people loved the coverage and send in their good comments. 🙂 We love you all. We got some exclusive videos from the event and are sure you'll love watching them. We added a few more from the other events and prepared a dashboard for Event Videos, a first again!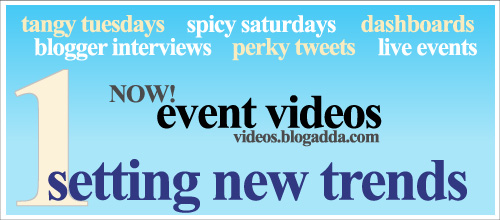 We take this opportunity to thank our readers for liking our initiatives that have become a trend which others want to follow – be it the Tangy Tuesday & Spicy Saturday Picks, Blogger Interviews, Perky Tweets and not to mention LIVE Coverage of the events. Team BlogAdda is doing awesome and with your continued support, we will keep on doing interesting new things. (Write to us something nice!)
Here are some videos:
Don't forget to keep visiting http://videos.blogadda.com as we are adding new videos there! It'll be great to know your feedback. Do comment or write to us. Thank you.