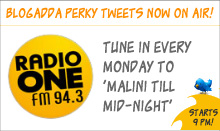 We have got great news for our readers. BlogAdda is proud to announce that Radio One 94.3 FM, Mumbai, is now associated with BlogAdda for the show 'Malini till Midnight'. Malini on her show will read out a few selected tweets from our Weekly Perky Tweets.
All the tweets read out on her show wins goodies from Radio One. This is a chance for all those who are on twitter to make their tweets more perkier. Editors at BlogAdda will be around the twitterville for tweets that meet their eye – but for you to make sure that you are not missed out, you can also tip us if you think your tweets are perkier. Follow us on twitter and tip us there or write to us and let us know.
This is a chance for you to get yourself and your perky tweet to get featured on radio and you have to do nothing different except making sure that your tweets are perkier. BlogAdda strives to offer the best to the Indian blogosphere and this is one of our initiatives. We would love to have your feedback. Do write in.
Earlier winners have received CD gift packs, Polaroid sun glasses, books from Crossword and more. You have a chance to win one of these or something different.
About Radio One 94.3 FM: Formerly known as GO 92.5 FM Mumbai's favourite radio station is bigger and better and is now ready to be #1! From the buzz on the streets to Mumbai masti and mayhem to keep you entertained just the way you want.  Tune in and make sure you are live with 'Malini till midnight' from Monday to Thursday, starting at 9 pm!
Do check out our last edition of Perky Tweets.