The results of Indian Elections 09 are out and Congress has been voted as the single largest party by the citizens of India. We had launched http://indianelections.blogadda.com focused on providing online readers with up-to-date information from the Social Media on Indian Elections 2009. The site since its launch has been a hit in terms of the only one covering Indian social media space including real time twitter conversations. We have got featured in many websites and thank them for that. Here are a few of them –
BBC had this to say about us 'Blogadda has updated its site with several key blogs reacting to today's results. One blog supporting the BJP says "Hopes are shattered and nightmares prevailed". Promise of reason says it is a loss of face for the BJP. In an entry entitled Jai Ho, the Hamara Congress blog calls it the "great Indian verdict".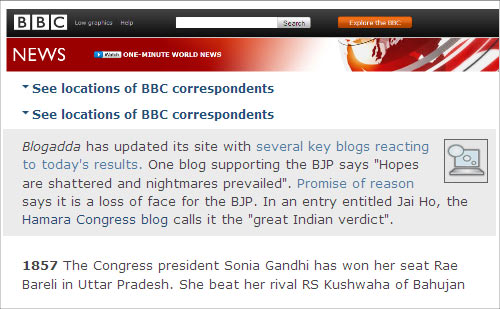 Vote Report India covered us here "… Blogadda has a very well designed Social Media Aggregator for the elections which collates videos, posts and photos from election focused blogs."

WATBlog reviewed our site giving us some interesting feedback though they missed our real-time update of twitter conversations as an unique feature.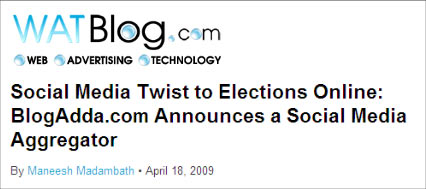 Intute – The best of the Web covered us extensively with a detailed report and here is what they have to say.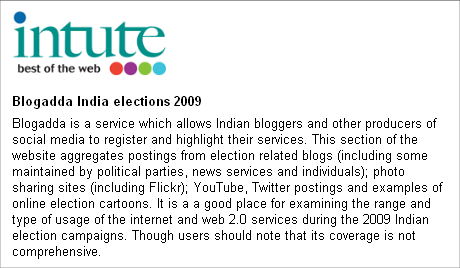 Though, this has been featured much earlier, we are sneaking in this one. Shhh.. No one at our company knows about it as yet – You can watch our founder Nirav Sanghavi in the company of Matt Mullenweg and Om Malik. And, you'll spot something more. 🙂

[flv:http://www.youtube.com/watch?v=x3NwhYA8DfQ 320 240]
We would like to thank the entire community of BlogAdda to make this happen. Without you and your support, we could not have done anything. It's been a great time for US after we launched our services and we promise a great time for YOU in the future.