IndusLadies has a wonderful competition announced for the upcoming mother's day.  It gives all the mommies the opportunity to do what they love to do the best, talk about our parenting experiences and also their babies.  What's more, the winner gets a cash prize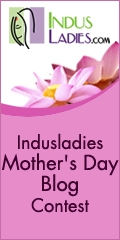 Fire away the computers, limber up, stretch the typing muscles, eat some brain food and come up with a wonderful blog post on parenting.  Post it on your blog and link it to www.indusladies.com.  Then go to Indusladies and post your link here.

The Prizes:
The winner gets $200
The 2nd place gets $100
The 3rd place gets $50
And the top ten get cool t-shirts and caps from Indusladies.
The first 25 entries get cool letter holders from Indusladies, being one of the jaldi 25 has its uses!

Entries:
During the period from 6th April 2009 to 20th April 2009, contestants must post an entry on their blog, and on IndusLadies Entries should be not more than 1200 words, and can have captioned photos.  The entries can be mushy, emotional, tragic, corny, funny, slapstick.  The contest entry should have a link to IndusLadies.

How do you win?
Simple!  IndusLadies is looking for traffic.  You submit your entry and then drive traffic to IndusLadies to vote for you.  People from all around the world can visit and vote.  The entry with the maximum votes will win.

Deadlines:
Entries must be posted by midnight 26th April 2009. Votes will be open from 27st April 2009 to 07th May 2009. Top ten blog posts will be announced on 8th May 2009 and then they are open for voting. Winners will be announced on 15th May 2009

Eligibility:
To enter this contest you must be a blogger from South East Asia and a parent.