He is happiest, be he king or peasant, who finds peace in his home – Johann Wolfgang von Goet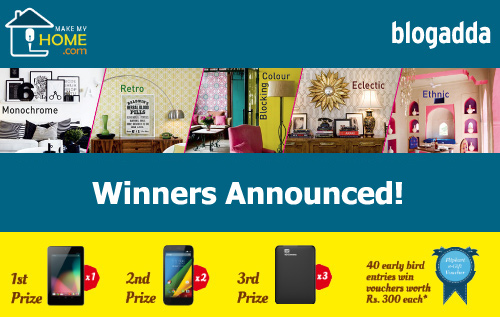 We loved reading interesting stories of your home decor. We must agree that you all are gifted with amazing talent of prettifying your house in an innovative and creative style to make it your home.
Thanks for your overwhelming response. We received some superb ideas to decorate our house.
We know you are eager to know the results therefore without any further delay we announce the winners  of "Re-Do your house with MakeMyHome & win" judged by the MakeMyHome team.
Amazing blogger winning a Google Nexus 7 is:

Time to announce the artistic bloggers who win Moto G are:
Wait its not over as yet. More winners. Here are the amazing one's who win Portable 500GB Hard disk:
The early bird winners will be informed through emails.
A hearty congratulations to all of you!! Thank You for your participation. Keep Blogging and participate in more activities to win more. 🙂