Hello everyone. Trust you are having a great time in the new year and the first 10 days were awesome. We are so looking forward to do a lot more things this year for all of you. Do share us your suggestions using this contact form. A couple of holidays are coming up this month and do ensure you click some real good photos and share your photo story.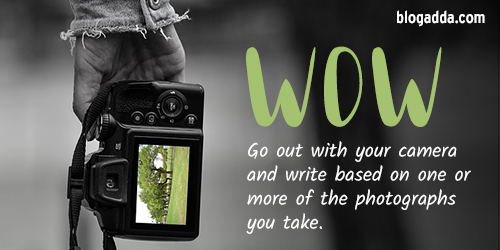 "I love pictures. Because the best thing about them is that they never change. Even when the people in it, do." – Unknown. Isn't it nice to know that the moments we capture in a photo become memories and it is always emotional to view them again? With the phone cameras becoming smarter, we see a lot of good clicks.
This weekend, for WOW, we would love you to "Go out with your camera and write based on one or more of the photographs you take." You are free to click and use as many photos as you like in the post, ensure that they are photos that only you've clicked. Do share us your thoughts/perspectives/emotions/stories of the photos that you publish in your blogpost.
Remember to submit your blogpost before Sunday midnight to be eligible as a valid entry and win a chance to display the WOW badge proudly on your blog and social networks.
Do add this line in your blogpost, 'This post is a part of Write Over the Weekend, an initiative for Indian Bloggers by BlogAdda.' Click on the submit button below to submit your WOW entry to be considered valid. Happy Blogging! We also hope that you are using the blogging stickers that we've created specially for you. 🙂