Good morning lovely people! Let's kick-start the day with laughter therapy. Monday's are usually mundane with loads of work at our desks. To refill your day with humor and fun, we bring to you this week's best #PerkyTweets that will make you chuckle all day. Read these funniest lines and wipe away all the boredom.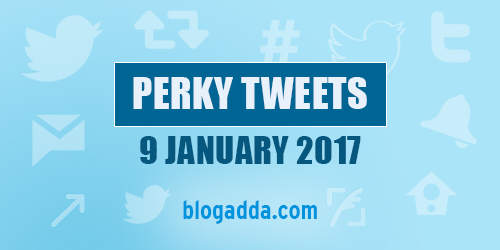 Arun Jaitley: "PM Modi stole my budget speech :("
Suresh Prabhu: "At least you still have a budget.. :("

— The UnReal Times (@TheUnRealTimes) December 31, 2016
Knife: i can kill people easily
Sword: Haha good one
Gun: lol

Words: ROFL

Drug Lord @bsmajithia: Behave! #PunjabDaCancer

— समझदार लड़की (@SamajhdaarLadki) January 2, 2017
Gareeb kare toh 'go back to facebook' ,Ameer kare toh 'Amazing tweet'

— Mojo (@Singhlicious) April 10, 2014
"What's your name?"
"Preet."
"Short for Preeti? Nice."
"No. Just Preet."
"Oh."
".."
"..sorry. Hi Jaspreet, nice to meet you."

— qawala (@sherlock_er) January 8, 2017
Pics in your phone that you're never seeing again but they stay earnestly waiting for you to delete them and put them out of their misery.

— Shakti Shetty (@Shakti_Shetty) January 9, 2017
"I love you."
"LOL."
*blocked*

— Shakti Shetty (@Shakti_Shetty) January 8, 2017
Uber driver asks if I have a 2K note. I ask why. He says, watch. Offers it to the toll guy who gives it back & says it's ok, no toll. Go on.

— Krish Ashok (@krishashok) January 9, 2017
Would you like to share a good laughter dose with us? Well, here's your chance to make your tweet feature in our #PerkyTweets next week! Submit it by tagging @blogadda in your tweets with the hashtag #PerkyTweets!