Good morning peeps! It's time when we glide into the world of Buzzing Blogsphere where the opinions and views of our Indian bloggers matters. So, put on your reading glasses and dive into the world where we will talk about passing away of Chief Minister Jayalalithaa, of Vardah cyclone and post effect of demonetization in our nation. Apart from all the weekend fun and frolic it's also important for us to keep ourselves updated with the latest incidents. For that purpose we serve you with the same, every two Mondays in our buzzing section! Let's see what our bloggers have to say on the recent events!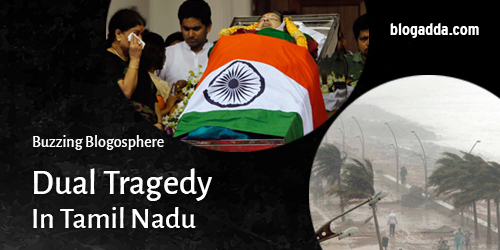 ImageSource 1  and Source 2
Jayalalithaa's tragic demise:
A woman who made her grip strong in the film industry also made many followers in the world of politics. There were haters and supporters but this queen continued to serve with full power, confidence and dignity. The Newsnation blog enunciates the entire journey of this imperial lady in their blog!
Back in the early sixties, a sixteen year old girl was sitting on the sets of Tamil movie Aayarathil Oruvan (One in a thousand) reading a book. She was actually the heroine of the movie which incidentally was her first film. The hero was the legendary MG Ramchandran who was also a rising star in Tamil politics with enormous clout. The entire cast and the crew were waiting for his arrival on the set for the shooting to begin.No wonder, when the great man imperiously walked in, every one rose from his seat in salutation save the young heroine. She retained her place and continued reading her book ignoring the obsequies being lavished on MGR.The fact that this incident is being remembered nearly five decades later is an indication of the near cult status Jayalalitha was able to carve for herself in her relatively short life, not to mention the several obstacles that littered her path.She excelled in movies becoming the leading female star of her time. Her career in the rough and tumble of Tamil politics was equally dramatic where she adorned the chief minister's chair for six times. In later years, the feisty Karan Thapar would be at the receiving end of Amma's famed temper as she would walk out from one of his grilling sessions with a parting shot. "It was not a pleasure meeting you sir. Namaste."Jayalalithaa lived her life on a grand scale. Destiny put a magnifying glass on almost all her public actions. As a screen goddess she delivered an unbelievable number of hits. Eighty out of the eighty five movies she made in Tamil went on to celebrate silver jubilee at the box office. Every single one of her twenty eight Telugu films was a platinum jubilee success. If it was Hemamalini in Bollywood, another Iyengar lady who enjoyed an enormous fan following, it was Jayalalitha whose rise in Kollywood was phenomenal.
The shocking news of demise of Jayalalithaa created a disturbing vibe for her followers. There were many many from who passed away due to this tragedy out of shock. The Connect4deepak blog emphasis on the followers and asks everyone what is that lead to death of followers, is it right?
Before moving ahead, if you are a political fanatic who thinks that leaders should not be questioned, then excuse me, you should not be continuing. If you still continue, its at your own risk.There were strict orders from government. Those who discuss the health status of Chief Minister over the internet/ social media , they would be arrested and prosecuted. And the same was done using the state police machinery with a quick reaction time.The intention was clear about preventing the panic situation. Days passed and ultimately the Chief minister was declared dead. Police did a wonderful job and no riots were reported. From Prime minister to President, condolences poured in. Amma is being replaced with Chinnamma and the show is moving on.Well and good. But according to latest report in the leading newspaper around 203 people die of Shock due to demise of the Chief Minister. It is quite hard to digest the numbers and party to which the Chief minister belongs has decided to compensate for such deaths.The question remains, why is that people die of a shock and grief of a chief minister? Ultimate answer would be love on the beloved leader.
The Pragativadi blog emphasizes on all the good work and dedication with which the empress of South lead her life. Take a look and learn some interesting facts on the same!
I had the good fortune of travelling with J. Jayalalithaa to London on an Air India flight. Her co-passenger was Simi Garewal, with whom she crooned the number "Aa Ja Sanam Madhur Chandni Mein Hum" in her program "Rendezvous". It was possibly the only show when the smartest lady of the Indian celluloid could bring out the lovelorn Jaya out of her Greta Garbaque visage.Jaya was more than her filmic life; with MGR, her protege, she made a heady cocktail of politics of populism and economics of realism. It may be recalled; MGR started the mid-day meal scheme (1980) by earmarking Rs.150Cr. to feed nearly 68 lakh undernourished children in 52,000 centre and 31,000 schools. Billed as the mother of all populism, and a waste of public money, even the master of all populism Mrs. Gandhi (Garibi Hatao) inquired about the detailed of the scheme. This is now a flagship programme for the nation and all states. For a country where nearly one third children are below the poverty line and 42% as per the Human Development Report (2016) are underfed, MDM is the most significant social sector investment. Jayalalithaa was very actively involved in this scheme and famously told a US journalist "when the USA back on its commitment to feed its poor, TN has shown the way". She is the master of giving novel freebies like pedestal fans, wet grinders, colour TVs, tablets and laptops. She can be inspiration of politicians for upcoming elections; as in demonetized the parties have to deal in kind. Such corrupt practices apart, her novel concept of Amma Unavagam (Kitchen) have really helped the poor to have wholesome food at extremely reasonable price. On a visit, last year to Coonoor & Madurai, I had a taste of these idlis at Rs.1/-, curd rice at Rs.3/- in the chain of 207 such canteen that dot the length and breadth of the state; they were delicious and hygienic.The other scheme that really attracts attention is the Amma Health check up scheme, which is available at highly subsidized rates. The most important scheme, however, is the Amma water scheme which is aimed at providing free mineral water to the poor at a cost of Rs.7304Cr.
The woman who was addressed as Amma, gave a tough fight to opponents. The never back down attitude created many foes as well for her. But, she continued to do her work without distraction. The Ridingtheelephant talks about her journey, downfalls and accomplishments take a look!
India lost one of its most controversial and charismatic political leaders with the death last night of J.Jayalalithaa, the 68-year old autocratic chief minister of Tamil Nadu. A former film star, Amma (mother) as she was widely known, managed to mix a reputation for massive corruption and an intensely reclusive lifestyle beset by illness with efficient administration, widespread and effective welfare schemes, and an erratic but sometimes powerful role in national politics. Jayalalitha when she was briefly jailed for corruption two years ago, several people committed suicide by setting fire to themselves, as they had done in 2001 when she was ejected from office on a supreme court ruling. She calmly announced in 2001 that "loyal and loving brothers and sisters" had become "martyrs" and gave each family a compensation payment of 50,000 rupees (then just over $1,000)."For more than two decades, Jayalalithaa loomed large on the horizon, in the minds of the public as a benevolent despot, a tough politician, an unforgiving leader, a vengeful opponent and an unfriendly, intolerant, ruthless chief minister who dragged journalists and opposition leaders to court on defamation charges," says an article in The Times of India today headlined "Tragic End of a Lonely Empress".
'Vardah' And Its Effects:
कुछ दिनों पहले तमिल नाडु में प्राकृतिक आपदा ने पूरे देश को हैरान कर दिया था | 'वर्धा' नाम के चक्रवात ने पूरे तमिल नाडु में तबाही मचा दी | Editorial.mithilesh2020  अपने ब्लॉग में इसी आपदा के असर और उस से पहुँचे नुक्सान की चर्चा कर लिखते हैं |
हमारे देश की खूबसूरती में यहां की विविधता का बड़ा ही अमूल्य योगदान रहा है, किंतु जैसा कि हर सिक्के के 2 पहलू होते हैं, तो हमारे देश में भी प्राकृतिक आपदाएं जब तब आती ही रहती हैं. कभी सूखा, कभी बाढ़, कहीं ओले, तो कहीं पाले (ज्यादा ठंड) अक्सर ही देश के नागरिकों का जीवन संकट में डाल देती है. हालात तब और भी गंभीर हो जाते हैं जब सुनामी या वरदा जैसा कोई बड़ा तूफान आता है, क्योंकि इससे जान माल की भारी क्षति होती ही होती है. हाल के दिनों में चक्रवाती तूफान वर्धा तमिलनाडु के तटवर्ती इलाकों में तबाही मचाने के बाद आंध्र प्रदेश और पूर्वी कर्नाटक की तरफ भी बढ़ा, जिससे कई लोगों की मौत हुई, वहीं चेन्नई जैसे शहरों की अर्थव्यवस्था थम सी गई. थोड़ा और व्यापक ढंग से बात करें तो, भारत के तटवर्ती इलाके में आए इस तूफान में ना केवल चेन्नई (तमिलनाडु), आंध्रा या कर्नाटक ही प्रभावित हुए हैं, बल्कि इसके दुष्प्रभाव से समूचा देश ही प्रभावित हुआ है. जी हाँ, इकॉनमी के स्तर पर भी और उससे आगे बढ़कर तकनीक के स्तर पर, जो भविष्य के लिहाज से भी चिंता उत्पन्न करता है. अगर तमिलनाडु की ही बात पहले कर लें, तो उद्योग जगत की संस्था एसोचैम के आंकलन के मुताबिक चक्रवात वरदा से तमिलनाडु में तकरीबन 6749 करोड़ रुपए का भारी नुकसान हुआ है. जाहिर तौर पर इस तूफान से जहां इमारतों, गाड़ियों और पेड़ों को जबरदस्त नुकसान पहुंचा है, तो कृषि क्षेत्र को भी भारी नुकसान का सामना करना पड़ा है. क्षेत्र में होने वाली फसलें जैसे केले, पपीते, धान इत्यादि को इस तूफान के कारण बड़ा नुकसान झेलना पड़ा है. साथ ही साथ भारी बारिश, बिजली की परेशानी, परिवहन व्यवस्था में अव्यवस्था और पालतू पशुओं को हुए नुकसान के साथ-साथ निजी संपत्ति को होने वाले नुकसान ने परिदृश्य को व्यापक कर दिया है. निश्चित रूप से स्थानीय अर्थव्यवस्था भारी सदमे में है, क्योंकि न केवल प्रत्यक्ष नुक्सान बल्कि इस तूफान के कारण दक्षिण भारत के पर्यटन व्यवसाय को भी भारी नुकसान पहुंचा है. हम सबको पता ही है कि दक्षिण भारत में कम ठण्ड के कारण विंटर सीजन में काफी पर्यटक जाड़े की छुट्टियां मनाने की तैयारी करते हैं, किन्तु अब वह इस क्षेत्र की बजाय कहीं और का रूख करेंगे.
Demonetization Effect:
The present government that lead an unprecedented move on the currency front on 8th November, 2016 has created a huge impact on all sectors. The Hrblock emphasizes on the tax department and also tax evaders. The movement that was done to slash away all the illegal money laundering and stop tax evasion!
From Black Money Act and Income Disclosure Scheme to Demonetization scheme, government has left no stone unturned to demolish parallel economy. However, hardcore tax evaders have taken this as an opportunity to come up with new and increasingly innovative ways to launder cash. Some of the methods used by such people has come into light after several raids and surveys conducted by the tax department. A recent operation by Income Tax Investigation Directorate shed light on a syndicate which was acting as medium to convert people's black money into white. It charged 35% commission from those seeking its service. It is interesting to note how the syndicate used RBI's guidelines to its advantage. It operated through a network of ground level operatives (GLOs). These GLOs would withdraw new currency notes from their bank accounts as well as from the accounts of their relatives and friends. Later they would collect old notes from aggregates and deposit such notes into their accounts or in the accounts of their relatives and friends. Finally they would transfer new notes to the aggregators at a commission of 35%. Another investigation revealed that cash was deposited into 7 accounts without the knowledge of account holder. PAN and other personal information of the person were used to create 7 different accounts which were used to launder cash worth Rs. 4.25 crores and channel the money to 8 beneficiaries. In another interesting case, a survey conducted by tax department revealed cash worth Rs. 27 lakhs which were going to be transported to Delhi in trucks carrying firecrackers.
नोटबंदी को समर्थन देने वाले देशवासी एक महीने बाद भी आशा रखते हैं की जल्द ही यह नोटों का संकट समाप्त होगा | उनका आशवासन बढ़ाने के लिए और महत्वपूर्ण बाते लिखते हुए,  Merikahee ब्लॉग में कुछ बातों का झिक्र किया गया है |
नोट बंदी का एक महीना पूरा होने के बाद लोगो में इसके प्रति उत्साह और समर्थन में धीरे-धीरे कमी आने लगी है। इसकी बड़ी वजह लोगों के हाथ में नकदी न आना है। बैंकों के सामने लाइनें वैसी ही लगी हैं जैसी शुरुआत में थीं। एटीएम से नकदी निकालने की सीमा न हटना और बैंकों से लोगों को पैसा न मिल पाना लोगों की हताशा को बढ़ा रहा है। इस बीच, देश भर से नोट बंदी के छोटे उद्योग-धंधों, खेती-किसानी, रोजगार, व्यापार आदि पर विपरीत असर की खबरें तेजी से आने लगी हैं। शहरों से बड़ी संख्या में मजदूर और श्रमिक गांवों की ओर पलायन करने लगे हैं क्योंकि वो जहां काम करते हैं, वहां काम फिलहाल बंद कर दिया गया है। ऐसे छोटे व्यापारी जिनका कामकाज सिर्फ नकदी पर निर्भर है, बड़ी संख्या में बेरोजगार होने लगे हैं। इसी बीच, टेलीविजन पर करोड़ों की तादाद में 2000 रुपए के नए नोट की देश भर से बरामद होती तस्वीरों ने लोगों को विचलित कर दिया है। वो सोच रहे हैं कि जिस 2000 रुपए के सिर्फ एक नोट के लिए वो ठंड में ठिठुरते दिन-रात बैंकों और एटीएम के सामने लगे हैं, रसूखदार लोग इन नोटों की गड्डियों से खेल कर उनकी भावनाओं पर चोट कर रहे हैं। आठ नवंबर को प्रधानमंत्री नरेंद्र मोदी के एलान के बाद लोगों की उम्मीदें बंधी थीं कि काले धन पर अंकुश लगेगा और जो लोग काले धंधे कर रहे हैं उन्हें सजा मिलेगी। इसी उम्मीद में लोगों ने तकलीफें झेलने के बावजूद पीएम का साथ दिया क्योंकि आज भी किसी दूसरे नेता की तुलना में उनकी साख लोगों के मन में बहुत ज्यादा है। लेकिन जैसा कहा जाता है कि आशा टूटने पर पहले निराशा होती है, जो जल्दी ही हताशा में बदल जाती है और इसकी परिणिति क्रोध में होती है। तो क्या नोट बंदी के नतीजों और असर से निराश और हताश लोग क्रोध की ओर बढ़ रहे हैं?
Apart from all the blood rush and excitement that demonetization created in the lives of citizens. There arises a question on the life of poor and that man who struggles in the que. Will it get better and if so when? The Dilipsimeon blog talks about it, take a look!
One month into demonetization, the hardships faced by India's citizenry have not abated. This is significant because it is not the result of some natural calamity but follows directly from actions taken by the government. As we are a democracy, the actions of the government and its associated bodies need to be scrutinized in public. We may start with the actions of India's monetary authority, the Reserve bank of India (RBI). On the RBI's website, its preamble states, "To regulate the issue of Bank Notes to generally to operate the currency and credit system of the country to its advantage". Some of its recent actions would leave one doubting whether it has striven to uphold its own mission statement. Now, in the midst of the impending economic deflation brought on by demonetization, the RBI needs to reflect upon this statement. This would also help the RBI to see that maintaining 'monetary stability' is not only about holding the rupee's purchasing power steady but also involves upholding the public's trust in the currency. There is no doubt that the latter has been shaken somewhat by the demonetization – some people have even mentioned not wanting to hold onto higher denomination notes because they think another round of demonetization may happen. Then there is capital flight from the rupee itself as agents shift their funds overseas. We have had over a month now to establish that ordinary Indians are the ones most hit by the hardships brought on by demonetization. The government has referred to the cash crunch as a 'temporary inconvenience' and called these hiccups 'inevitable' as the plan to demonetize had to be kept secret.
Well, that's all folks for this time. Hope you enjoyed gliding in the world of Buzzing Blogosphere. We also would like to inform you that you can submit your blog posts for Buzzing Blogosphere from now onward. All you need to do is write your views, opinions, suggestions on the latest happenings that has created a big buzz in our nation. The topic should be a recent one. We would love to read and feature them. Utilize this opportunity and get featured at BlogAdda! 
Click here to submit buzzing posts!