To step into the world of ventures you need to be prepared for all sorts of challenges. There are stoppages that create a dwindle effect that are mostly ignored. To overcome these disturbances and turmoils Catapooolt a premier crowdfunding platform for all start-ups, is organizing the Catapooolt Changemakers Challenge Season 2 to encourage and make ways for budding start-ups. This initiative by Catapooolt is an opportunity for all the entrepreneurs to meet investor community and generate great deal of customer engagement. They believe in crowdfunding these start-ups for a strong market validation. Powered by The Economic Times, 50+ start up ecosystem partners and 800+ leading startup investors, we BlogAdda are also proud to be their blogging partner!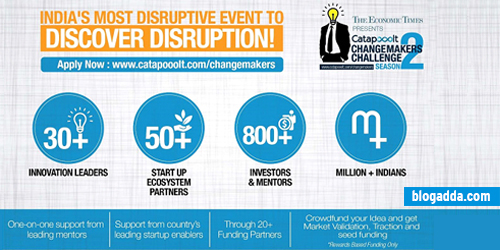 What's Catapooolt Changemakers Challenge Season 2?
It is a crowdfunding event for start-ups from December 5, 2016 to February 28, 2017 devoted to create engagement between new ventures and investors. It will enlighten these start-ups about the challenges and also help them overcome. It also focuses on letting these start-ups generate potential customers for their new prospect in the world of business and venture!
What's in for you?
1. Applications are now open from all early stage start-ups. The last date for application is January 15, 2017.
2. Eligible start-ups would be requested to go for crowdfunding round – from the period of January 16 to February 28, 2017. The core idea here is to encourage these innovations to reach out to their social network, friends and potential consumers – and thus request support, validation and initial funding
3. Top 40 start-ups – basis the innovation potential and crowdfunded amounts – would be shortlisted and would be allocated one-on- one mentors, who would then work closely with them for fine tuning the business strategy and investors deck. India's leading innovation champions – including likes of Ajeet Khurana (noted angel investor) Jaspreet Bindra (Senior VP, Digital Innovation, Mahindra & Mahindra); Guneet Singh (Head of Marketing Solutions, Google India); Naiyya Saggi (Founder Babychakra) and others are joining hands with Catapooolt towards this initiative.
4. Grand Finale – These 40 start-ups will then be presenting their final pitch to nation's leading angel investors and investor networks – which includes likes of Indian Angel Network, Ah!Ventures, Amrita TBI, Unicorn Ventures India and others. These Funding partners have committed an estimated combined corpus of INR 300 Lakhs to be invested in these early stage start-ups – subject to their meeting the funding criterion and due diligence.
5. If you register through our reference code BlogAdda250 you will get Rs 250/- discount.
For more details visit:
Website: http://www.catapooolt.com/ / http://www.catapooolt.com/changemakers/
Facebook: https://www.facebook.com/Catapooolt
Twitter: https://twitter.com/Catapooolt
So come and be a part of this big Changemaker event!