Do you remember the time your dad took you on your first horseback ride? On his back? That laughter of yours put the biggest smile on his face.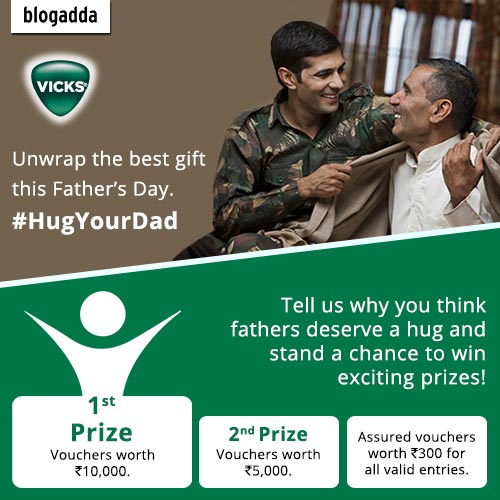 Do you remember the time your dad held your hand as you entered the school gates, nervous and scared; your tears made his heart break, but he had to let go of your hand to watch you grow.
Do you remember the time your dad bought you a bicycle, because every kid in the neighborhood had one of their own and your dad could not bear to see you sad without one.
Do you remember the time your dad stayed up all night with you while you prepared for your final exams; he always wanted to be there for you.
Do you remember when you fought with your dad because he would not buy you a bike/car to go to college? He was worried about your safety.
Do you remember the last time you said 'Thank You' to your dad for all the little things he did for you which influenced you in a big way. Well, do you remember?
We often forget to appreciate the big things in life, especially our parents. They say a Father's love is like that much needed dash of salt in our food. Without his love, we may not be able to appreciate all the good things we have in our lives.
As Ezra Taft Benson said, "Mothers play an important role as the heart of the home, but this in no way lessens the equally important role fathers" play, as head of the home, they nurture, train, and love their children."
Your father has been there with you, through every crucial moment of your life. Whether it was coming back from work, tired, but still excited to see you walk. He counseled you when you were unsure which college to join. He insisted on picking you up from the party that ended late at night. He made up stories so that you would sleep peacefully while suffering from the flu.
A small gesture can go a long way in letting your father know how thankful you are to him for everything that he has done for you. You do not need an expensive gift to express yourself. Just wrap your arms around him and give him the best gift ever, a tight hug. Let him know that his small gestures of love have helped you be the person you are today.
It is time you hugged your dad, don't you think?
Vicks in association with BlogAdda presents the #HugYourDad contest. Tell us why a hug is the best gift you can give your dad this father's day and you can stand a chance to win some fantastic prizes.
Prizes
First Prize: Voucher worth Rs. 10,000!
Second Prize: Voucher worth Rs. 5,000
Assured voucher worth Rs. 300 for every valid entry!
Click on the link below to submit your entry!
Click To Submit!
Excited to blog for '#HugYourDad'? Take a look at the instructions below and get started!
Instructions to follow:
The word limit for the blog post is a minimum of 400 words.
Every blogger can submit upto 2 blogposts for this activity.
The deadline for this activity is midnight 24th June, 2015.
Please include the line – This father's day, I am expressing my love towards my dad by participating in the #HugYourDad activity at BlogAdda in association with Vicks Embed this video in your blog.