Parents of Mumbai, we have a treat in store for you! On Saturday, 14th March, we are inviting you and your child (or children) to a day of fun at KidZania Mumbai! Few experiences will be as entertaining and educative for your child as the KidZania experience. So do you want to see your child's face light up in the world of KidZania?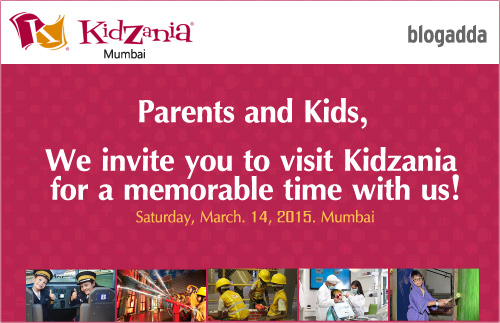 KidZania is a global indoor theme park that is designed to educate and entertain kids. But taking a step further from regular theme parks, KidZania is a global indoor theme park built like a city for children where they can independently explore and choose to role-play from 90 exciting careers like pilot, surgeon, RJ, chef, fire-fighter and much KidZania spreads across 75,000 sq ft and emulates the workings of a city with a functioning economy and its own currency. KidZania is an award-winning concept with more than 35 million global visitors since its launch in 1999. Currently, there are 18 KidZania facilities in 15 countries.
BlogAdda invites you to spend a whole day at KidZania Mumbai, where you can watch the sparkle in the eyes of your child as they indulge in their favourite dreams. You might have heard 'I want to be a pilot when I grow up', or 'I want to be a model when I grow up' from your kids, and KidZania is the place where you can see all of this happening in front of your eyes.
After the meet is over, we also have a surprise for you!
Register for the KidZania bloggers meet by clicking on the button below. If you are shortlisted, we will get back to you as soon as possible with further details.
Submit Now!
The last date of registering for the activity is 12th March, 2015, and remember, there are very limited slots for the KidZania bloggers meet, so register as soon as possible to ensure that you and your child don't miss out on the fun!
The agenda for the meet is:
| | |
| --- | --- |
| 9.30 am | Reporting at KidZania |
| 9.30-10 am | Boarding pass, security bracelets  & entry procedure to be completed |
| 10:00 AM | KidZania National Anthem |
| 10.00 -10.30 am | A walk through the city |
| 10.30 onwards | Parents & kids to explore KidZania & understand the workings of the city. |
| 1.30 – 2.00 | Networking & Lunch |
| 3:00 PM | We end the afternoon with a 🙂 |
Instructions to follow-
1. This activity is only open for Mumbai bloggers.
2. You will have to write a blog post about your KidZania experience with your child and submit it before 22nd March, 2015.
3. A parent with a child aged between 4-16 years will be considered for this activity.
4. You will have to include the line, "This post is a part of the KidZania bloggers meet activity conducted by BlogAdda and KidZania" in your blog post.
Register now and take your child out for a guaranteed day of fun at KidZania Mumbai!