This Monday we are in conversation with Meghna Pant, the author of 'One & A Half Wife'. She is a financial journalist by day and a writer by night, She has formerly worked as a TV anchor for NDTV Profit and Bloomberg-UTV. We talk about a lot of interesting things revolving around her book & her life. Read on.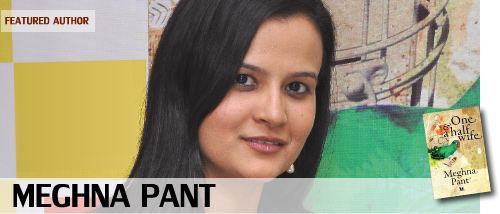 Q: Tell us something about your book and what should readers expect from it.
'One & A Half Wife' is a prism that captures the social realities of our time – cultural bigotry, reverse immigration, the fall of the American Dream, the shift of the Golden Age to India (despite Soniaji's best efforts), divorce and childless marriages – with a fast-paced narrative, a dash of humour and colourful characters.
I don't want to predetermine what my readers should expect from the book, so that they can enjoy it on their own terms, but most people have written in from around India saying that they loved the novel and it is very well written. The most common reaction has been: "I couldn't put it down and skipped sleep/the Euro Cup/work/ my bus stop/ the IPL to finish reading it."
You can't imagine how humbling and satisfying it is to hear this.
Q:Â Who/ What is that person/instance in your life without whom/ which this book wouldn't have happened?
I'd give full credit to my publisher Westland and the first person to read the book, my editor Prita Maitra, who immediately fell in love with my novel. I believe that success can be achieved only if talent is recognised, and it's heartening to see that credible Indian authors are being given a vital break.
Q:Â If you are told that you are to live the life of one character from your book, who would it be and why?
While I identify with different aspects of each of my characters, I have to say that I'd love to live the life of Shikha, who is the protagonist Amara's neighbour. She portrays this ethereal old-world charm with this avant-garde sensibility, and her personal growth and sagacity, even though it's captured only through Amara's lens, is inspiring.
I dare say though, that with her borderline wickedness, living Biji's life may be the most fun.
Q: The advent of vigorous social networking sites has made everyone desperate to create an identity for themselves. Being an author, what does Social Networking mean to you?
I have to admit that I'm quite dismayed by the commodification of literature over the last few years. Being an author is no longer about how well you write or how strong your narrative style is, but how many followers you can get on Twitter and the likes you can get on Facebook. Many 'authors' have told me that they spend more time tweeting than writing, as they believe this alone boosts their sales!
I don't buy into this. Social media has its benefits – yes – but it has to be used with dignity i.e. as a means to update serious readers on reviews or readings, as well as to connect with people you'd otherwise not be able to meet.
I like to believe that 'One & A Half Wife' will do well on the basis of how good it is, and that word-of-mouth will work more than gimmicks.
Q:Â What do you like to indulge in when you're not writing?
A book may be the best way to travel without moving your feet, but ever so often I like to use my feet.
Following the advice of His Holiness the Dalai Lama, I try to see a new country each year. To be able to sit down and write about the world, it's crucial to first stand up and see what's out there.