Q: The travelogues that you write manage to capture the moods of the situation you are in. From the people to the tangible things, you observe everything very carefully and also successfully take the reader into his/her imagination mode. You have indeed developed a very distinct writing style. Who inspires you to write this way? Any person whom you particularly follow?
It's not a conscious exercise, more likely resulting from an innate love of the outdoors and the Indian street, and as a consequence the people. Writing it down is a way to relive the travels we both go on. I'm not so sure if my writing is distinct in any way, it's just a telling of the many moments that string together into journeys. Moments that makes journeys meaningful.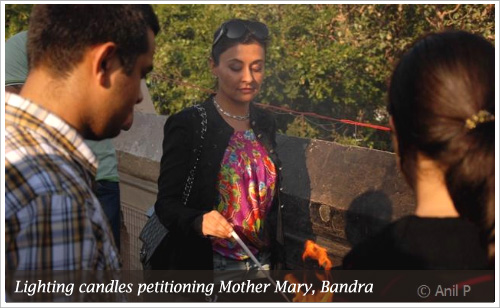 Among the motivations to write, aside from the fact that the blog is in large part a record of our travels, drawing from my wife, K's own interest in seeing the journeys narrated, is the opportunity to relive the entire experience all over again when writing it. In addition there's the obvious pleasure in sharing the journeys with kindred souls as in virtual tours, and hopefully contribute in some way in revealing India's humanity in its myriad forms. The country inspires in its life on the street and elsewhere, and does so in many ways.
As for authors whom I've admired for their travel writing and literary portraits, there are many, and include among others Bruce Chatwin for his In Patagonia, Charles Kuralt for his Charles Kuralt's America and Life On the Road, Joseph Mitchell's Up In The Old Hotel, Evelyn Waugh's Labels, Eric Newby's Slowly Down The Ganges, Graham Greene's Journey Without Maps, John Lane and Gerald Thurmond's anthology The Woods Stretched For Miles featuring Nature Writing from the South, Bill Aitken's Riding The Ranges, Pico Iyer's From Heaven Lake: Travels Through Sinkiang and Tibet, Ruskin Bond's Delhi Is Not Far, and V. S. Naipaul's Miguel Street among others.
Q: What do you think travel writing in India requires, to gain more importance?
Many things. Travel writing is difficult to define. It can change contours in literary pieces, evolve in the context of a memoir playing out in geography and time, hammer home in people portraits, play out in streetside portrayals, and scale up in the context of historical narratives or accompany one on journeys to nowhere in particular but everywhere at once.
Nevertheless, as a genre, travel writing is nearly non–existent in the Indian media, and I do not consider the destination pieces that flood the pages, rarely moving beyond ecstatic clichés or breathless adjectives, as travel writing. Surely not in the sense what travel writing can be – an uplifting experience, insightful understanding of a people, a place, a culture, an ethos, an identity, together transporting the reader on the same journey as the author.
For one, the Travel genre needs to be given space as in newspapers and magazines need to accord Travel an importance at the same level it does News, Political Affairs, Bollywood, and Political Opinion among other things, and not merely out of compulsion of filling up Lifestyle pages.
To experience the people, a place, a culture from perspectives arising from the travel writer's own sense of being, and his/her connection to the place in the context of their own lives, which a reader can then relate to from their own contexts, is among the key drivers for insightful travelogues. Such travelogues take the reader along as opposed merely providing information or details which, unfortunately, is the current reality through much of travel writing one sees in India. And it's difficult to bring this about in the 1,000 words that newspapers and magazines will usually allocate for the purpose. Then there's the question of monetary compensation, an issue that stands alone all on its own.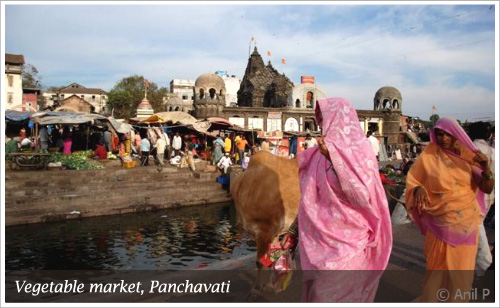 As for the travel writing itself, the challenge for an Indian travel writer ranges from the limitations of the milieu he/she hails from as in shaping his/her outlook of the country and its people, in addition to English not being the native tongue, compounded from not having formally studied or practiced it beyond the 10+2 level as is the case with most people, writers and readers.
While there's Pico Iyer, Vidiadhar Naipaul, Pankaj Mishra among others of Indian origin, in addition to Indians, and Indian residents of foreign origin as in Ruskin Bond, Bill Aitken, Wiliam Dalrymple among a few others, there's much scope for more travel writers stepping in simply for the possibilities India's diversity offers in its untold stories, a need that many have attempted to fulfill over the years in a literary capacity, as opposed to strictly travel, most notably in –
Elsewhere: Unusual Takes on India, the anthology Kai Friese edited, and published by Penguin India. The volume is a selection of writings that appeared in the India Magazine between 1995 and 1998. It includes narratives by Amit Chaudhuri, Shuddhabrata Sengupta, Siddhartha Deb, Bishakha Datta, Ruchir Joshi, Suketu Mehta, and Anita Roy among others.

Civil Lines: New Writing from India, Volumes I, II, III, IV, and V, the anthologies edited by Rukun Advani among others.
While many of the narratives might not strictly qualify as travel writing as we tend to know or identify with, but more as literary pieces, they however tap into the essence of successful travel writing – reaching for the reader with a combination of geography, time, humanity, and an essence of India that differs from story to story but is bound together in the commonality of the larger Indian experience.
Q: Meeting different people and hearing their stories are a part of your travels. What are the memorable moments or special stories you've experienced in these years of many journeys? Also, the journeys which you opt for are very unusual. For instance, you have street travelogues and festival travelogues. How different is this experience, from other travelogues?
While I relish my interactions with people in places we travel to, I do not however consciously set out planning on meeting people, in essence I am open to whatever experiences the road will bring or will not bring. People and stories happen depending upon if I'm there at the right place at the right time and meet the right people.
And as is natural with anyone who has traveled a bit, there are many experiences one encounters in the course of their travels, and I've had my share. Sometimes the experiences revolve around a bit of drama, other times they're revealing for the stories people share, and yet other times serendipity comes calling and turns the meeting or the moment into a memorable experience in the instant of its revelation.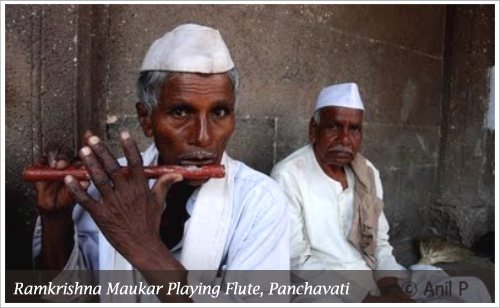 Like for instance the villager I met in a temple in Panchavati, Nashik, turned out to be a pilgrim traveling with fellow pilgrims from his village, visiting the sacred place associated with Lord Ram. Soon, the local tour guides and flower sellers convinced him into lending his tune and later his flute to the afternoon, and the old stone temple, partly in ruins echoed to the earthiness of folk songs.
I recorded the moments and put them together in the video below. Play it to share the experience meeting with Bhagwan Ramkrishna Maukar and hearing him lend his voice to that afternoon in Panchavati.
Later as I meandered about along the Godavari river, I happened upon Jadhav by his wooden cart he dispensed water from, to thirsty villagers visiting Panchavati or shopping for vegetables. Soon it became clear that Jadhav loved company and we got talking. He had much to share about life in this ancient place.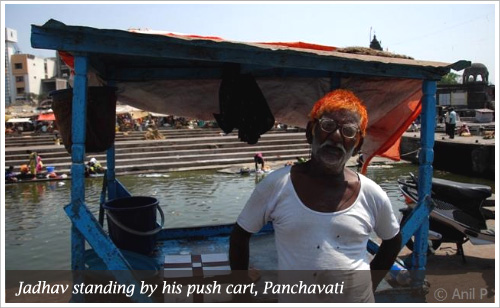 When it was time to part, he turned his back to reach for a wooden box, before opening it halfway to reveal its contents – a stack of used cigarette pack covers, in the same moment asking me for my visiting card. I wasn't carrying any and told him so. He didn't mind it one bit and instead reached for the stack of colourful cigarette pack covers before offering one, branded Ronson, to me, saying "Here, this is my visiting card."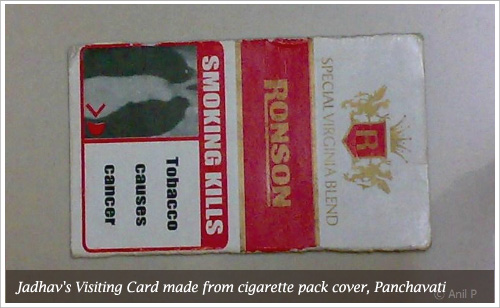 Surprised as much for his ingenuity as for his enterprise, I turned the cigarette pack cover over; it was advertising as Special Virginia Blend alongside the mandatory warning, and saw his mobile number noted on the back. Nothing else, no name, nothing. Just his mobile number. Nothing else was needed to identify it, for I doubt if I'll ever be given a visiting card made from used cigarette pack covers again.
Or of the time I met Appu Kuttan folding his straw mat on a platform outside the ancient Mookambika temple in Kollur, on my backpacking trip through Karnataka along the west  coast many years ago. He turned out to be an Ex-British India Army soldier pre-Independence. At 83, he remembered the key details.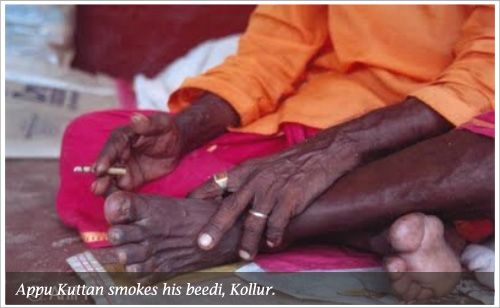 The beedi he lit burned slowly as he spoke of his time in the army pre-independence, of his posting in the war zones during World War II, and of his eventual journey in his saffron avatar, traveling across India on pilgrimages and putting up at temples.
For the full account of the encounter with Appu Kuttan, read it here. Then there're other stories. Many. Each different. Each memorable.